An age-dependent branching process model for the analysis of CFSE-labeling experiments
Received: 9 June 2010
Accepted: 22 June 2010
Published: 22 June 2010
Abstract
Background
Over the past decade, flow cytometric CFSE-labeling experiments have gained considerable popularity among experimentalists, especially immunologists and hematologists, for studying the processes of cell proliferation and cell death. Several mathematical models have been presented in the literature to describe cell kinetics during these experiments.
Results
We propose a multi-type age-dependent branching process to model the temporal development of populations of cells subject to division and death during CFSE-labeling experiments. We discuss practical implementation of the proposed model; we investigate a competing risk version of the process; and we identify the classes of cellular dependencies that may influence the expectation of the process and those that do not. An application is presented where we study the proliferation of human CD8+ T lymphocytes using our model and a competing risk branching process.
Conclusions
The proposed model offers a widely applicable approach to the analysis of CFSE-labeling experiments. The model fitted very well our experimental data. It provided reasonable estimates of cell kinetics parameters as well as meaningful insights into the processes of cell division and cell death. In contrast, the competing risk branching process could not describe the kinetics of CD8+ T cells. This suggested that the decision of cell division or cell death may be made early in the cell cycle if not in preceding generations. Also, we show that analyses based on the proposed model are robust with respect to cross-sectional dependencies and to dependencies between fates of linearly filiated cells.
Reviewers
This article was reviewed by Marek Kimmel, Wai-Yuan Tan and Peter Olofsson.
Keywords
Initiator Cell
Saddlepoint Approximation
Compete Risk Model
Sister Cell
Cell Lifespan
Background
Carboxyfluorescein succinimidyl ester (CFSE)-labeling experiments have become a standard assay in the analysis of cell proliferation kinetics since Lyons and Parish [1] developed the technique. The assay has become widely used to investigate the processes of division and death of activated lymphocytes [2–13]. The popularity of this flow cytometry-based assay rests on the ability of the dye CFSE to track how many times any individual cell has divided since the beginning of the experiment. Using additional fluorescent markers attached to the cell membrane, to intra-cellular proteins, or to the nucleus, other cellular properties may be identified. For instance live and dead cells can be distinguished from each other using TOPRO-3, a fluorescent dye that binds to the DNA and RNA inside the plasma membrane of dead cells. The information obtained by combining multiple markers offers a means with unprecedented power to further advance our understanding of the most basic cellular functions (proliferation, death, and differentiation) and how these functions may be optimized or modulated by an external signal such as a treatment. The events of interest (division, differentiation, or death of individual cells) cannot be observed during CFSE-labeling experiments, and mathematical modeling offers an attractive approach to the quantitative analysis of cell kinetics in this setting. A number of mathematical models have been proposed to describe the proliferation and death of cells in successive generations, as observed during CFSE-labeling experiments. The utility of stochastic models has been investigated in several publications. For instance, Hawkins et al [9] proposed a model which they referred to as a cyton; Yates et al [11] considered a discrete time branching process; Hyrien and Zand [12] considered the utility of age-dependent branching processes; Lee and Perelson [13] investigated a Smith-Martin model. These models present various limitations. For example, the cyton model is formulated through a competing risk approach under which the probability of division is completely specified by the distributions of the time to division and of the time to death. The process proposed by Hyrien and Zand [12] did not include cell death because additional issues had to be addressed. One goal of the present paper is to propose a general stochastic model - built on the branching process proposed by Hyrien et al [14] - that mitigates these limitations. The proposed model contains many of the existing models as particular cases. For an overview on branching processes, we refer to [15–17].
A motivating example: proliferation of CD8+ T lymphocytes
CD8+ T lymphocytes are responsible for killing cells infected with viruses. Such killing requires recognition of a foreign marker, typically a viral protein fragment presented on the cell surface by the Major Histocompatibility Complex (MHC) Class I proteins, which is then recognized by the cognate T cell receptor expressed on the surface of the CD8 T cell. CD8 T cells normally persist in a resting, non-dividing state in the lymph nodes, spleen, peripheral blood and tissues, until they become activated. Activation occurs with the binding of the cognate T cell receptor to the MHC Class I protein containing the foreign peptide fragment, along with several other accessory signals. Once activated, CD8 T cells multiply rapidly, usually within a lymph node, spleen, or mucosal associated lymphoid tissue. After a moderate but limited number of divisions, the activated CD8 T cells cease dividing. Some of these activated cells stay in the lymph node to become resting memory CD8 T cells, which can be activated again upon re-exposure to the viral antigen, for instance with re-infection. The majority of CD8 T cells, however, stop dividing, exit the lymph node, travel to the site of infection or inflammation in order to kill infected cells, and most cells ultimately die within several days. The effectiveness of CD8+ T cells in controlling the spread of an infection depends on their proliferation rate in relation to the rate at which the virus can reproduce. In particular, critical parameters for the success or failure of an immune response in controlling infection for a particular viral pathogen include: the time to activation, the time to division and the probability of division of activated CD8+ T cells. Multiple biological factors may modulate these parameters, including the type and strength of activating signals, or the local presence of cytokines which improve the efficiency of the division of CD8+ T lymphocytes, to name a few. The methods proposed in this paper may be used to quantify the effects of stimuli on these parameters using CFSE-labeling experiments.
The principle of CFSE-labeling experiments
CFSE is a fluorescent dye that was first used by Lyons and Parish [1] as a means to track the division history of individual cells. In a typical CFSE-labeling experiment, a pool of cells is isolated, either by extraction from blood, a tissue or from a cell line, and then pulse-labeled through brief incubation in a CFSE-containing solution. A fraction of the dye binds non-specifically to intra-cellular proteins, and the remaining unbound dye solution is washed out. The cells are aliquoted into small wells in standard 96-well tissue culture plates at concentrations ranging typically between 104 - 106 cells per 200 μliter well. In addition, in experiments involving lymphocytes, a stimulus is added to the culture medium in each well so cells may engage in division. The cells are then sampled at various times after the start of the experiment.
The amount of CFSE contained in individual cells can then be quantified by flow cytometry, a technique by which fluorescently tagged single cells are suspended in a fluid stream, passed through an optical cell where a laser excites the CFSE dye, and a photomultiplier measures the total fluorescence emission from the dye in the (biological) cell. This technique allows measurement of fluorescence in up to 107 individual cells in a single sample, with multiple samples run for a single experiment.
When a cell divides, the CFSE molecules that it contains are partitioned in approximately equal amount between each daughter cell, causing the CFSE-fluorescence intensity to decrease by a factor of two in each generation. When the histogram (or any other estimate of the probability density function (p.d.f.)) of the log-transformed CFSE-fluorescence intensity is plotted, the identifiable peaks are indicative of the generation numbers, with the peak with highest fluorescence intensity corresponding to cells of first generation (that is, undivided cells), the second highest peak corresponding to cells of second generation (cells having divided once), etc. The p.d.f. of the CFSE-fluorescence intensity evolves over time in accordance with the kinetics of the cells. Examples of CFSE-labeling data are displayed in panels A-B of Figure
1
. The data are dependent because the fluorescence intensities of cells that arise from the same ancestor cell are all related to the amount of CFSE contained in the common parent cell (see [
12
]).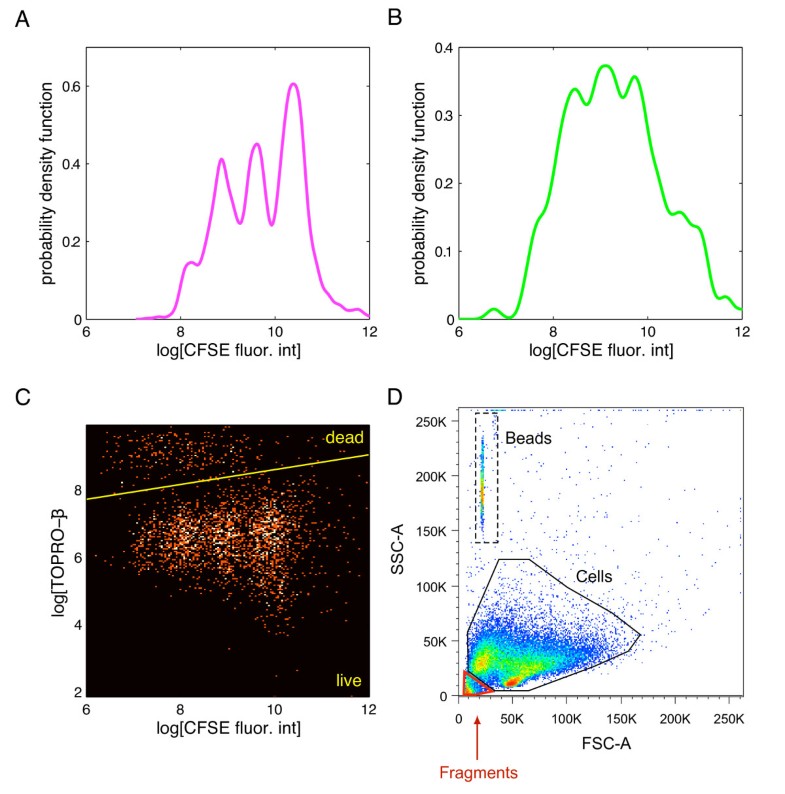 Under typical experimental conditions, cells also undergo apoptosis or programmed cell death. When a cell dies, its plasma membrane becomes permeable to certain classes of fluorescent dyes. TOPRO-3 is one such dye that binds to the RNA and DNA, which normally remain shielded in living cells by the intact plasma membrane. Similarly to CFSE, TOPRO-3 emits light upon excitation by a laser. The intensity of the resulting fluorescence can be measured by flow cytometry, and used to distinguish between live and dead cells. Thus, by using simultaneous CFSE and TOPRO-3 labeling on the same cells, one can separate live and dead cells in multiple generations of divided cells, as shown in panel C of Figure 1. This is accomplished by using a threshold: cells are declared dead if they fall below this threshold, and live otherwise. This approach is reasonable here since the fluorescence intensities of live and dead cells appear to have little overlap.
Dead cells in vitro eventually disintegrate or fragment. The scattering properties of the fragments allow distinguishing them from intact, non-fragmented cells. The important implication of disintegration is that the absolute number of cells that have died by any given time is not experimentally measurable, and models should include this feature.
For sampling and analysis, it is often the case that multiple wells are pooled together so each experimental group contains cells in sufficient number for the measurements to be taken. The cells are then washed, incubated with TOPRO-3, and washed again. An approximately known number of fluorescent beads is also added to the cell suspension. These beads are used to back-calculate the total number of cells in an entire cell group. Each experimental group thus contains a pool of cells and beads run on the low cytometer. A number of "events" are collected for each experimental group, generally 105 - 106 events, with an event being defined as a set of flow cytometric measurements collected on a single object (that is, a cell, a bead or debris). Each set of measurements includes two parameters of light scattering properties (forward scatter - FSC, and side scatter - SSC) and the fluorescence intensity of CFSE and TOPRO-3 (and possibly of additional protein markers labeled by fluorescent dyes as well). Bivariate plots of the light scattering properties of the objects can then be used to distinguish between beads, cells and debris, and to count the number of each (panel D of Figure 1).
Let

denote the total number of cells contained in any given group of wells at time of sampling, and let

denote the number of beads added to these cells. Only a fraction of the pool of cells and beads in any experimental group is sampled by the flow cytometer. Various sampling strategies exist. One of them consists in letting the flow cytometer sample objects until a pre-specified number of beads, say

, has been recaptured. This sampling scheme is known as a capture-recapture experiment with single-mark release [18]. Let

denote the number of cells sampled along with the

recaptured beads. The total number of cells in the experimental group can be estimated as

, which is the Petersen estimator [18].
Discussion
We proposed a general framework for the quantitative analysis of CFSE-labeling data resting on multi-type age-dependent branching processes. The proposed method can be extended in a number of ways. For instance, for the sake of simplicity, we did not consider cell differentiation in this paper. This could be accomplished by including additional cell types in the model. See [14, 19, 21] for some examples of branching processes that include this feature. The branching processes proposed in these publications allow the distribution of the time to differentiation to differ from those of the time to division and of the time to death and they do not resort to a competing risk approach for specifying the fate of the cells.
Reviewers' comments
Reviewer's report 1
Marek Kimmel, Department of Statistics, Rice University, Houston, Texas, United States
The authors introduce a new variant of the Bellman-Harris Branching Process to improve the mathematical description of the decision-making process in cultured CD8+ T lymphocytes and apply their model to labeling data, to demonstrate its superiority over the competing risks model. The new variant of the process allows the decision to proceed to either to proliferation or to apoptosis (or to quiescence) to precede the act of division or apoptosis initiation. It results in a slightly modified integral equation for the probability generating function of the process. Since the CFSE-labeling allows distinguishing between cells which underwent different numbers of division, as well as quantifying the increase in cell number, fitting models to the CFSE data appears quite meaningful. In my opinion, the paper is worthwhile and publishable. I have several remarks which may improve the contents and clarity of presentation.
1.

The process Z g,s(t) (p. 8) does not seem to be a point process.
Authors' response.
We have removed the reference to point processes.
2.

Page 13. The sentence starting from "Clearly, the conditional distribution ..." does not seem to be very precise. I would suggest stating the property discussed in the terms of independence of random variables, so that ambiguity is avoided.
Authors' response.
Done.
3.

An application to human CD8+ T lymphocytes. I understand that in this application, independence between mother and daughter lifetimes is assumed. This might be worth stressing, particularly since one page earlier, in Proposition 1, independence is not required.
Authors' response.
Done.
4.

Data analysis using a competing branching process. I find the section written in a somewhat confusing way. Among other, it is first stated that "A likely explanation for the lack of fit of the competing risk process is that the times to death were estimated as being much shorter than the times to division using the full model." However, several lines down, the mean time to division is said to be estimated as 14.3 hours whereas the mean time to death as 14.7 hours. Please clarify.
Authors' response.
We have re-written the section.
5.

Effects of cellular dependencies. There exists a whole class of models, developed mainly in the 1980s, which look for the source of dependencies in cell size/growth rate regulation. A relatively complete review is contained in Webb's paper in Computers & Mathematics with Applications (Volume 18, Issues 10-11, 1989, Pages 973-984).
Authors' response.
The reference has been added.
6.

Further quantitative insights into the kinetics of CD8 T cells. It seems somewhat disappointing that this discussion does not return to the original motivation, which was the organization of fighting the infection by the T lymphocytes. Maybe something might be added?
Authors' response. We have expanded the corresponding paragraph.
Reviewer's report 2
Wai-Yuan Tan, Department of Mathematical Sciences, The University of Memphis, Tennessee, United States
This paper proposed an age-dependent branching process model for analyzing data from CFSE-labeling experiments, extending the multi-type Bellman-Harris branching process and the author's previous models. The paper is well-written and provides a logical approach to model the temporal evolution of population of cells under cell division, differentiation and death. The paper also went into details to illustrate how to implement the proposed model. It has also identified some basic cellular dependencies that may influence the expectations of the process. Because the model involves a large number of unknown parameters, it would be very useful to the readers if the authors would write a paragraph to indicate how the unknown parameters and probabilities were estimated. What type of methods they used to derive standard errors of the estimates (Efron's bootstrap method?). Because some of the distributions are basically mixtures, perhaps the EM-algorithm may be useful.
Authors' response
Parameter estimation using CFSE-labeling data is a difficult problem that will be discussed in a separate paper. In particular, it can be shown that the proposed estimator is root-n consistent, whereas some existing estimators are not. Also, Efron's bootstrap does not appear to apply to CFSE-labeling experiments because the resulting data are dependent. Moreover, to the best of our knowledge, existing bootstrap algorithms do not appear to have been designed to handle this class of dependencies. Finally, as you suggested, one can used an EM algorithm to compute parameter estimates.
Reviewer's report 3
Peter Olofsson, Mathematics Department, Trinity University, San Antonio, Texas, United States
The paper uses a multi-type age-dependent branching process to model CFSE-labeling experiments. It is a clear and well-written piece of work and I think it deserves to be published in Biology Direct. I do not have the necessary expertise to comment on the biology, and will only make a few comments on the mathematics. On page 7, the authors claim to extend the Bellman-Harris process by allowing lifespan and offspring to be dependent. However, such processes were introduced already in the 1960s by B.A. Sevastyanov and are sometimes referred to as "Sevastyanov processes". These days, a Sevastyanov process can be viewed as a special case of the general multi-type branching process introduced by Peter Jagers in the late 1980s and early 1990s. I would therefore recommend the authors not to refer to their process as "the general branching process" as this term is commonly reserved for the "Crump-Mode-Jagers process" where reproduction occurs according to a point process, not necessarily by splitting.
Declarations
Acknowledgements
This research was supported by NIH grants 2R01 NS039511, R01 CA134839, 1R01 AI069351, and NIH/NIAID grant N01-AI-050020. The authors thank Tina Pellegrin and Miguel Brown for their excellent technical assistance in generating the experimental data.
Authors' Affiliations
(1)
Department of Biostatistics & Computational Biology, University of Rochester Medical Center, Rochester, USA
(2)
Department of Medicine, Division of Nephrology, University of Rochester Medical Center, Rochester, USA
Copyright
© Hyrien et al; licensee BioMed Central Ltd. 2010
This article is published under license to BioMed Central Ltd. This is an Open Access article distributed under the terms of the Creative Commons Attribution License (http://creativecommons.org/licenses/by/2.0), which permits unrestricted use, distribution, and reproduction in any medium, provided the original work is properly cited.