Origin of the cell nucleus, mitosis and sex: roles of intracellular coevolution
Received: 16 December 2009
Accepted: 4 February 2010
Published: 4 February 2010
Abstract
Background
The transition from prokaryotes to eukaryotes was the most radical change in cell organisation since life began, with the largest ever burst of gene duplication and novelty. According to the coevolutionary theory of eukaryote origins, the fundamental innovations were the concerted origins of the endomembrane system and cytoskeleton, subsequently recruited to form the cell nucleus and coevolving mitotic apparatus, with numerous genetic eukaryotic novelties inevitable consequences of this compartmentation and novel DNA segregation mechanism. Physical and mutational mechanisms of origin of the nucleus are seldom considered beyond the long-standing assumption that it involved wrapping pre-existing endomembranes around chromatin. Discussions on the origin of sex typically overlook its association with protozoan entry into dormant walled cysts and the likely simultaneous coevolutionary, not sequential, origin of mitosis and meiosis.
Results
I elucidate nuclear and mitotic coevolution, explaining the origins of dicer and small centromeric RNAs for positionally controlling centromeric heterochromatin, and how 27 major features of the cell nucleus evolved in four logical stages, making both mechanisms and selective advantages explicit: two initial stages (origin of 30 nm chromatin fibres, enabling DNA compaction; and firmer attachment of endomembranes to heterochromatin) protected DNA and nascent RNA from shearing by novel molecular motors mediating vesicle transport, division, and cytoplasmic motility. Then octagonal nuclear pore complexes (NPCs) arguably evolved from COPII coated vesicle proteins trapped in clumps by Ran GTPase-mediated cisternal fusion that generated the fenestrated nuclear envelope, preventing lethal complete cisternal fusion, and allowing passive protein and RNA exchange. Finally, plugging NPC lumens by an FG-nucleoporin meshwork and adopting karyopherins for nucleocytoplasmic exchange conferred compartmentation advantages. These successive changes took place in naked growing cells, probably as indirect consequences of the origin of phagotrophy. The first eukaryote had 1-2 cilia and also walled resting cysts; I outline how encystation may have promoted the origin of meiotic sex. I also explain why many alternative ideas are inadequate.
Conclusion
Nuclear pore complexes are evolutionary chimaeras of endomembrane- and mitosis-related chromatin-associated proteins. The keys to understanding eukaryogenesis are a proper phylogenetic context and understanding organelle coevolution: how innovations in one cell component caused repercussions on others.
Reviewers
This article was reviewed by Anthony Poole, Gáspár Jékely and Eugene Koonin.
Background
Cells are of only two fundamental kinds: bacteria (=prokaryotes; cells with DNA segregated by surface membrane motors) and eukaryotes (nucleated cells dividing by mitosis) [
1
,
2
]. In bacteria the typically single and circular DNA chromosome is attached to the surface cytoplasmic membrane and segregated by protein motors associated with that membrane, and ribosomes start translating messenger RNA (mRNA) even during transcription. Eukaryote chromosomes are normally multiple and linear and never attach directly to the surface plasma membrane. Instead they are fixed to and surrounded by a specialised part of the endomembrane system (the nuclear envelope, NE) during interphase, the part of the cell cycle when the cell grows, genes are transcribed, and DNA replicated. During cell division, by contrast, eukaryotic chromosomes are compacted, precluding transcription or replication, and attach by their centromeres to microtubules of the mitotic spindle, which moves them into daughter cells. The problem of nuclear origins therefore requires understanding coevolution of about 27 cell components (Appendix 1) and how they became functionally interlinked into the fundamentally novel eukaryotic life cycle [
3
–
5
], approximately 850 My ago, at least two billion years after bacteria evolved [
6
]. Not only mitosis, but also sex, i.e. meiosis and syngamy (cell and nuclear fusion), must have evolved at the same time. This conclusion follows irrespective of whether the eukaryote tree is between unikonts (animals, fungi and three protozoan phyla) and bikonts (plants, chromists and all other protozoan phyla [
7
,
8
] or is instead between Euglenozoa and all other eukaryotes as shown in Fig.
1
in line with recent arguments for the root lying within Eozoa (Euglenozoa plus excavates), most likely between Euglenozoa and excavates sensu stricto [
9
]. Peroxisomes, mitochondria, centrioles, cilia, and Golgi dictyosomes must also have originated prior to the last common ancestor of all extant eukaryotes, whichever of these positions of the root is correct [
6
]. This radical transformation of cell structure (eukaryogenesis) is the most complex and extensive case of quantum evolution in the history of life [
2
,
3
,
6
]. Beforehand earth was a sexless, purely bacterial and viral world. Afterwards sexy, endoskeletal eukaryotes evolved morphological complexity: diatoms, butterflies, corals, whales, kelps, and trees.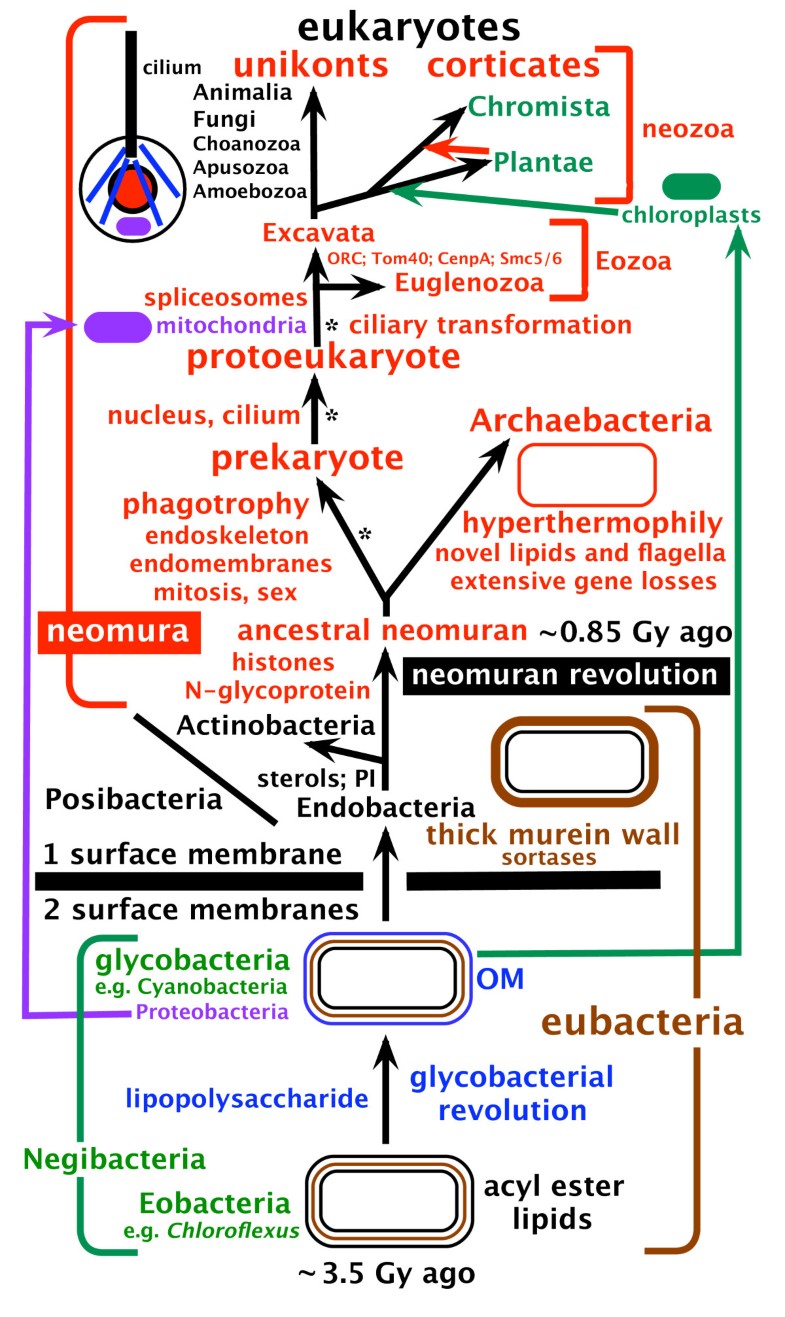 Evolution of complex characters typically involves preadaptation, radical mutational innovation, and different selective forces acting in succession [3, 6, 10]. Here I paint an integrated picture of how the nucleus, sex, and the eukaryotic cell cycle originated and congealed into a novel, unified, and very conservative cellular lifestyle during later stages of the conversion of a bacterium into a eukaryote. In addition to establishing the phylogenetic context (Fig. 1) there are three crucial problems for understanding the origin of the nucleus [5]: (1) assembly of endomembranes around chromatin (the DNA-histone complex); (2) evolution of the nuclear pore complex (NPC), which crucially allows a channel between nucleoplasm and cytoplasm; and (3) origin of centromeres and mitotic spindle, without which nuclear chromosomes cannot be stably inherited. As first argued 30 years ago [11], origin of the cell nucleus cannot be understood in isolation from other major innovations of the eukaryotic cell; intracellular coevolution among different cell constituents that interact physically or that profoundly affect selective forces acting on each other is the key to understanding eukaryote origins [3, 4]. Elements of the present synthesis were presented then [11], e.g. that sex began even before the nuclear envelope, i.e. in a prekaryote phase of evolution (see Fig. 1) and the dominant selective advantages. However, the phylogenetic context has changed dramatically with our now much more robust understanding of cell phylogeny (1) [3, 7, 8, 12, 13]. Moreover, genomics has enabled molecular origins of many key eukaryotic constituents, including NPCs, to be traced [14–17], whilst advances in molecular cell biology tell us how nuclei actually assemble [18, 19] and function. Building on these insights, I now propose the first specific physical mechanism for evolving nuclear envelope architecture and explain its major genetic consequences and why other theories are inadequate.
As the field of eukaryogenesis has been confused by a plethora of contradictory ideas, some not compatible with established evidence, before presenting the novel explanations I summarise two areas to put them in context: (1) the phylogenetic origin of the eukaryotic components, and (2) the origin of the endomembrane system and cytoskeleton. I only outline the conclusions, giving references for details, as most of the evidence and arguments is not new, being already published. Because the nature of molecular changes during major evolutionary transitions is more diversified and complex than some molecular evolutionists have realised, I also preface my original explanations of the origin of the nucleus with an outline of some basic but widely neglected evolutionary principles that apply to all such major innovations in body plan. This background is rather long because the proper evolutionary context is so important: the nucleus did not evolve on its own; explanations of its origin make no sense without understanding the prior evolution of the endomembrane system of which its envelope is a specialised part. Intracellular coevolution of about a 100 novel properties is at the core of understanding eukaryogenesis.
Results: the Origin of Mitosis and the Nucleus
Discussion
According to the present coevolutionary theory, the origin of the nucleus depended on the prior evolution of a primitive endomembrane system and a primitive mitosis, both brought about by and associated with the origin of phagocytosis. The revised multistage theory for the simultaneous origin of mitosis and the pellicular microtubule array of the first discicristate eukaryotes offered here (Fig. 3) explains the transition from posibacterial to eukaryotic skeletal, segregational, and cell division structures distinctly more smoothly and in more detail than previous ideas. The new interpretations of the origins of heterochromatin and its positional control by small RNA and the new theory for the origin of the nuclear envelope and nuclear pore complexes by coated vesicle fusion (Fig. 5) integrate a vast body of molecular and cell biological data into a coherent picture of how nucleocytoplasmic compartmentation originated, with plausible mechanisms and selective advantages for each stage. The discussion of the origin of meiosis and syngamy explains the origin of sex and of eukaryotic life cycles with alternating ploidy levels as the almost inevitable outcome of those new mechanisms of mitosis, cell cycle control, and cell compartmentation, given the need to reduce cell cycle errors in ploidy, maximize survival in dormant states induced by famine or environmental adversity that precludes growth, and the contrasting requirements for maximizing reproductive rates when food is plentiful. This is all done within a critically interpreted phylogenetic framework for both the ancestral bacterial and the derived eukaryotic parts of the tree of life, which is consistent with all major lines of evidence, molecular, cellular, and palaeontological.
In comparison with the above proposals, previous discussions about the origin of the nucleus are either unnecessarily complicated or fail to explain the most essential things. This is particularly the case with theories that invoke symbiogenesis or prokaryotic cell fusions as 'explanations' of the basic features of eukaryotic cells. To illustrate such unnecessary complexity and explanatory failure, consider the serial symbiogenetic/autogenous theory of my good friends López-García and Moreira [122]. I single this out for detailed criticism not because it is worse than other cell fusion/symbiotic theories but because it attempts to be more detailed, which is praiseworthy; most are so empty scientifically that a critic can gain no useful purchase.
Appendix 1
Key innovations in the origin of the nucleus and eukaryotic cell cycle
1.

2.

3.

Chromatin condensation cycle: histone phosphorylation, methylation, acetylation; heterochromatin [18, 170]

4.

5.

FtsZ triplication to make tubulins; (γ for centrosome) and α and β for microtubules fixing it to cell surface [3, 4, 6]

6.

Kinesin to separate centromeres via antiparallel microtubules [6]

7.

Centromeres/kinetochores (CenpA from core histone) for attaching DNA to microtubules [3, 4, 6] (note that as discussed in the text CenpA might be a property of neokaryotes only, but even Euglenozoa have some kind of kinetochores)

8.

Dynein for moving cargo towards the minus end of microtubules and related midasin for ribosome export [6]

9.

10.

11.

12.

proteinaceous interphase nuclear matrix with bound DNA-topoisomerase II and its ability to reorganize as mitotic chromosome cores [163]

13.

14.

15.

nucleolus and more complex rRNA processing (e.g. 5.8S rRNA) [3]

16.

17.

18.

ribosome subunit export machinery [14, 17] (note that most proteins involved have not been detected in Euglenozoa so they might use a simpler system than neokaryotes)

19.

20.

polyA transcription termination system [70]

21.

22.

23.

24.

25.

nuclear envelope fusion and syngamy [332]

26.

27.

nonsense-mediated mRNA decay [314]
Innovations are listed in likely order of occurrence, but some (e.g. 3-6, 17-19, 22-23) were likely to have been simultaneous. Some were likely to have been rapid consequences of others (e.g. 9 of 1-7; 16-20 of 13,14; 26 & 27 of 14; 27 of 26). References indicate where their evolution or molecular basis is reviewed in more detail.
Reviewers' comments
Anthony Poole
This is a fascinating and important paper on a complicated topic. Overall, I rate Cavalier-Smith's take on the evolutionary origin of the nucleus as the most thoroughly considered attempt published to date, and there is little doubt in my mind that the main conclusions he makes are better supported than those of competing models. I see no significant problems with the theory as presented, and agree with the central points.
There are two general take-home messages here. The first, eloquently summarised in the final paragraph of the paper, is that symbiogenetic theories have been a '40-year distraction'. Cavalier-Smith's forceful and cogent attack on these views makes for enjoyable reading (though perhaps not if one is on the receiving end), and the arguments here amply demonstrate why the position advanced by Yutin and collegues in their recently published paper (Biology Direct 2009, 4:9) is specious at best. The second general message is that, to have any hope of explaining the origin of the nucleus, it cannot be considered in isolation from other key eukaryotic cellular features (as has all too often been the case).
The only real gripe I have with this paper concerns its proportions. It is like a sandwich made with bread sliced too thickly, and meat sliced too thinly. The Introduction is an interesting though long and, at times, meandering read, and the Discussion is nine tenths diatribe (on why everyone else is utterly wrong on almost everything). Let me make it clear that I don't have any major concerns about the content of these sections, but the really exciting material (the 'Results' section) is concertinaed into a few brief pages. To give some perspective, there is about 10 pages in the Discussion devoted to the slating of other published theories (I found this interesting reading but note that many of these critiques have been made elsewhere, either by Cavalier-Smith or by others) and around the same proportion of the 58 pages of text in this manuscript is dedicated to developing the novel ideas. This has two effects. One is that the novel material is deeply buried, and as a reader one has to work hard to extract the author's insights from such a lengthy composition. The second is that, on account of the brevity of the 'Results' one has to spend a lot of time figuring out exactly what Cavalier-Smith means. I am probably not alone in acknowledging that Cavalier-Smith has a broader knowledge of the subject matter than I, but it makes it hard to follow the reasoning when a number of points are assumed to be common knowledge and stated without some sort of background. While one might say I should have done my homework, I think much would be gained from acknowledging that the topic of this paper is of interest to a broad range of evolutionary and cell biologists, and providing the requisite detail would therefore be of value. In some cases the arguments are indeed well-supported and developed, but for other points there may be a greater degree of speculation, and the difficulty is that without a fair recollection of Cavalier-Smith's extensive canon, it may be hard to follow all the reasoning. This is a pity because, some points might therefore be mistaken as superficial speculation when they are in fact well-supported.
Authors response: Only one bread slice (the introduction) was substantially thicker than the meat. That is because it provides background to help digest the meat. The referee requests more background for certain topics in the results section; the problem with such a broad field is that readers differ greatly in which parts of the background they really need; some may want more on some points and less on others than provided. I have amplified only parts of the introduction for which at least one referee seemed to need more information. Cutting some or inserting more might please some readers but irritate others: each can skim what to them is obvious and linger over what seems novel. I also amplified the meat section on the evolution of nucleocytoplasmic transport to clarify points raised by the next referee, moved the general section on megaevolution to the discussion so readers reach the meat faster, and made the results discussion of the origins of mitosis (now mentioned in the title), meiosis and heterochromatin more thorough with more background even though this needs some revisiting of arguments and evidence discussed previously. A diatribe is defined as bitter and abusive; my discussion has much robust but carefully reasoned criticism of arguments, including some of each referee, but is neither bitter nor abusive so is not a diatribe. I would welcome similarly robust, reasoned and discriminating criticisms of my ideas, much preferable to their being ignored or uncritically accepted. I thank all referees for their comments; more such dialogue is needed in this field.
What follows are a few specific comments or questions concerning ideas presented:
p7, "The eubacterial ancestor of neomura could not have been a negibacterium with two bounding membranes, but was a posibacterium with a single surface membrane, like neomura; probably an actinobacterium, but possibly an early intermediate between Endobacteria and Actinobacteria".
Here I wish to request a clarification. This statement builds on two points. One is that archaea and eukaryotes are sister groups. The other is that the neomura (archaea + eukaryotes) evolved from within the bacteria. The view that neomura evolved from bacteria is based on an argument Cavalier-Smith has made before (see in particular Biology Direct 2006, 1:19), and is where the statement 'probably an actinobacterium' comes from. This gives the impression that neomura (archaea + eukaryotes, and ignoring any genetic contribution from mitochondria) evolved from the actinobacterial crown. I would like to ask whether the author's statement should be taken to mean this is a possibility, or whether actinobacterial-neomuran affinity refers to a split before the most recent common ancestor of actinobacteria (i.e. a stem actinobacterium).
Author's reply: I thought there was no compelling evidence either way, so stated the point thus, and simply referred to my previous discussion of the uncertainties [13]. The radical changes in so many genes that caused the neomuran revolution make it exceedingly difficult to answer this question using gene sequence trees - more difficult than establishing the branching order of the eubacterial phyla (itself largely unresolved by sequence trees alone). However, reasons now specified in the introduction indicate that neomura are most likely sisters to crown actinobacteria, as shown in the more resolved revision of Fig. 1. Insofar as the posibacterial ancestor of neomura must already have evolved phosphatidylinositol, sterols, and 20S proteasomes, it was a stem actinobacterium rather than an endobacterium (though it may well have had endospores as do the most divergent actinobacteria). Phosphatidylinositol can be considered a synapomorphy of actinobacteria that clearly differentiates them from Endobacteria, which unlike the other two has not been secondarily lost within the group. If, as previously suggested [12]that ancestor was a thermophile ( not hyperthermophilic), it might also have had a GC-rich genome.
I also think it is worth me pointing out for those who might disagree with the bacterial origin of neomura that one does not need to accept all the steps preceding the archaeal-eukaryote split in figure 1 - for the purposes of following the novel arguments developed here the reader should concentrate on the three stages marked with stars.
Author's reply: That is correct. The nature of the mechanistic and selective forces that led to the nucleus is logically independent of the phylogenetic origin of neomura (seemingly not realised by the third referee). However it is likely that destabilization of eubacterial structure assumed by the overall theory during the origin of neomura almost immediately prior to the origin of the eukaryote cell was of key evolutionary importance in facilitating the radical changes during the origin of phagotrophy. A close association in time between this putative destabilization and the divergent origins of both eukaryotes and archaebacteria and the probable rapidity of the transitions is a major part of the explanation of the absence of extant intermediates between the three domains; it helps explain why they are so phenotypically distinct. Moreover, readers also need to take on board the palaeontological evidence that eubacteria are much older than eukaryotes, combined with the phylogenetic evidence that archaebacteria are sisters rather than ancestral to eukaryotes and the absence of any compelling evidence that archaebacteria are as old as eubacteria because this is important for understanding the phylogenetic origin of the individual components of the eukaryotic host, especially those that are absent from archaebacteria. It is important to appreciate the major role that unsubstantiated assumptions, fashion, and the very name archaebacteria, rather than critical reasoning, has played in the prevailing view (in my view wrong) of the equal age of neomura and eubacteria.
p23 'and possibly triggering the Neoproteozoic snowball earth'
and
'in the only really major explosive adaptive radiation prior to the Cambrian explosion'
and (on p25) 'Every gene probably duplicated many times in just a few days'
One factor that makes this paper frustrating to read is all the distraction. The above comments do not really seem necessary for presenting the central ideas. The first is a speculative aside that Cavalier-Smith has given elsewhere and does nothing more than derail the reader's concentration by throwing in an unnecessary spanner. The second is a qualitative statement of the throwaway kind, better suited to a narrative piece, and is again distracting. The statement from p25 is again terribly speculative, and, to my mind these types of statement (there are many more) detract from the strengths of the paper.
Author's response: these are fair comments, reflecting our differing opinions of how one should present ideas; however, it would have been better to have said that such brief, less central statements may detract from some readers ' perceptions of the strength of the paper. They do not reduce the actual strength of the central arguments, which stand on their own merits. I retain them to alert readers to these possibilities, the last one as a deliberate irritant to stimulate readers to consider that key changes can be much faster than often assumed. Because they are peripheral and/or speculative it is not useful to amplify them here.
I like the discussion of Simpson's writings, but think the author might get to the last paragraph, and the last sentence of the last paragraph ('These are just descriptive terms; they do not invoke special mechanisms beyond mutation and selection'), a little earlier. I found that, having an idea of what the author was actually saying made the second reading of the paper much easier; the first time through I was heavily distracted by all the strong statements about microevolution, e.g. p4, '.dramatic innovations like the origin of the nucleus that are incomprehensible by just extrapolating normal microevolutionary changes'. I think that one does have to be careful with this sort of blanket statement since 'microevolutionary processes' has in the past been very broadly defined. Suffice it to say, it is clear with careful reading that Cavalier-Smith is not invoking special ad hoc mechanisms to account for the origin of the nucleus, so this is perhaps a case of smoke without fire, though with statements such as 'the origin of eukaryotes was an intrinsically abnormal event, not one understandable simply by extrapolating the trivial tinkering that occupies most evolution. To understand it we must invoke something quite exceptional' (p25), it is easy to think this is the case.
This melodramatic wordsmithery is followed by a brief list of four important items (note to the author: only three are listed): preadaptation to phagotrophy, 'novel selective forces' that phagotrophy brings (these are left unexplained), and disruption to cell division and DNA segregation as a consequence of phagotrophy. This at least tempers the hyperbole immediately preceding it. What follows that is an interesting discussion of preadaptations that the ancestor of eukaryotes must have possessed: a single membrane, loss of the murein cell wall and several cellular attributes (large cell and genome sizes, diverse lipids, a secretome and a facultatively aerobic/anaerobic metabolism). Cavalier-Smith argues that Actinobacteria appear to carry these preadaptations. In this view, the lineage leading to archaea secondarily lost these preadaptations.
The points concerning preadaptation are essential for Cavalier-Smith to place this work within the wider context of his own ideas on the neomuran revolution, and are interspersed with slicing critiques of others' proposals for the cellular nature of the host that engulfed the mitochondrial ancestor (i.e. an archaeal host or a mycoplasma). What is most important to my mind is that identifying these preadaptations provides important cell biological insight into the origin of the eukaryote cell, regardless of the specifics of the actinobacterial-eukaryote affinity.
Author's response: These perceptive comments highlight the difficulty of getting over the idea of radical differences in scale, style, and speed of megaevolution compared with day to day microevolution without exaggerating or underplaying the importance of the descriptive distinction, and without being misunderstood because of past exaggerations or mistaken claims for radically different mechanisms or contradictions that do not exist that make many reasonably wary of such distinctions. It is pleasing that nonetheless you understood the essence of what I tried to say. I have now placed the last paragraph as the second paragraph with some modifications that may help other readers understand my message more easily. Emphasizing the dramatic contrast between megaevolutionary events and most evolution is not hyperbole; it is an essential truth. It is the extravagant exaggeration by some students of microevolution to the effect that 'all evolution is just changes in allele frequency' that is truly hyperbolic and wrong. The origin of eukaryotes is a prime example where the origins of hundreds of new genes and protein domains and of dozens of radically new cellular structures was far more important than changes in the frequency of alleles of existing genes, and thus involves considerations entirely outside the scope of standard population genetics, which does not consider cell structure or unique events at all. The more general parts of this discussion are now moved to the discussion.
I have three questions for the author concerning the evolution of chromosomes from a circular to linear form (p33):
1. What do you make of the multiple secondary emergences of linear chromosomes among bacteria [386]? The constraints you raise ('the need for replication forks to converge on a single terminus and signal completion', p33) do not seem to apply to these cases.
Author's response: These examples show that some bacteria can evolve linear chromosomes if they solve the end replication problem, which can be done in several different ways (no bacteria use mechanisms homologous to telomeres; the spirochaete Borrellia, like some viruses, uses the hairpin mechanism I originally proposed for eukaryotes [221], and the actinobacterium Streptomyces uses terminal proteins like some plasmids or viruses). Thus the constraints against bacterial linear chromosomes are not absolute, but that does not mean that no constraints other than the end replication problem exist (the same must apply to mitochondria, where linear genomes have also evolved multiply; apparently plastid genomes never did). It would be interesting to study the control of replication termination and its coordination with segregation and division in each case of secondary origin of linear chromosomes. A thorough understanding of this should show either that the putative constraint I invoked is irrelevant or that these bacteria found novel ways around it or for some reason can better tolerate linear chromosomes. I doubt whether they would reveal an advantage for linearity, which I suspect is a functionless evolutionary accident driven by mutation pressure, but do not exclude the possibility of an advantage.
2. The discussion presented regarding the consequences of phagocytosis includes the idea that, prior to this, there were strong constraints on the number of origins of replication. The relaxation of these constraints ('only a single replicon per chromosome so replication termination could directly signal division to occur directly between the only two daughter replicon termini') is thus something that is proposed to postdate the archaeal-eukaryote split. Sulfolobus species are known to have more than one origin of replication [387, 388] - do you have an opinion as to why multiple origins are found in some archaea? - this observation doesn't obviously support your statement that additional origins would be 'stringently removed by purifying selection for >2Gy'.
Author's response: Sulfolobus is an interesting exception to the general rule. In so far as I consider that Sulfolobus evolved well after eukaryotes, this important exception does not invalidate my statement from which you omitted the key word 'previously': my actual statement 'previously stringently removed by purifying selection for >2 Gy' remains true. As this exception is found in an archaebacterium, which unlike eubacteria have Mcm-related DNA synthesis initiation proteins (Cdc6 proteins) related to those of eukaryotes, it is clear that replication initiation was significantly changed during the neomuran revolution (I argue as a coevolutionary result of the origin of core histones). These changes might have preadapted both eukaryotes and archaebacteria to evolve multiple replicon origins, provided there is a selective advantage for this. In the case of eukaryotes I suggested that this selective advantage was to ensure that their much larger genomes were replicated by their much slower replication forks in a small fraction of the cell cycle. Though Sulfolobus has a rather small genome, its replication forks move an order of magnitude more slowly than in most prokaryotes [387]. With three origins replication takes 40% of the cell cycle; with only one it would take 120%, clearly impossible; without multiple origins the cell cycle would be markedly longer, a severe selective disadvantage. Thus the exceptional slowness of Sulfolobus replication forks imposed a novel selective force for multiple origins, as in eukaryotes (I would argue probably independently, though the mechanisms of its synchronous initiation of multiple origin control need elucidating in detail to test this). Sulfolobus has asynchronous replicon termination, which raises the same issue of coordination with division as linear chromosomes: understanding this better would also help test these ideas. It seems that in general in archaebacteria there is a long gap after replication termination before division and no archaebacteria are known to use the trick of successive initiations at single origins (at shorter intervals than total fork transit time) whereby Escherichia coli and other enterobacteria speed up DNA replication and allow cell cycles shorter than replication time. The absence of such mechanisms combined with slow forks would favour multiple origins. In these and some other respects [389, 390]there are closer resemblances in cell cycle controls of archaebacteria with eukaryotes than with eubacteria; possibly when archaebacterial cell cycles are better understood, additional preadaptations for what are currently thought of as typically eukaryotic mechanisms will become apparent. If they do, such cell features would have arisen in the ancestral neomuran - and thus be neomuran not eukaryotic innovations. In Sulfolobus multiple origins clearly arose by gene duplication (two of the three are linked to cdc6 genes) [387], as I originally suggested for eukaryotes [4]. Why replication should be so exceptionally slow in Sulfolobus could be related to its exceptional environment (80C and pH 3) that may have led to unusually stable chromatin structure, likely to delay strand separation by DNA helicases. Overall this exception illuminates the rule and supports my interpretation of the reasons for it, which explain both the rule and this exception.
3. Thermophily has previously been proposed to be a selective pressure favouring the emergence of circular chromosomes [391]. Earlier in the manuscript (p6), you state that the ancestral archaebacterium was subjected to massive gene loss (including genes such as MreB) during 'secondary adaptation to hyperthermophily'. Given the statement that the ancestral archaeon was not hyperthermophilic, it would be nice to hear the author's view on the proposal that Cenarchaeum symbiosum (and related mesophilic 'Crenarchaeota') be classified as a distinct phylum (Thaumarchaeota - [232]), one possible implication from that work is of course that the ancestral archaeon was not hyperthermophilic. I haven't discussed this with Forterre yet, but an ancestrally mesophilic archaeon could potentially kill the argument for circular chromosomes as a direct thermoadaptation (since Cenarchaeum has a circular genome).
Author's response: You misinterpreted the significance of 'secondary' in my sentence. I did not state that the ancestral archaebacterium was not hyperthermophilic. As explained in detail before [12]I have consistently argued since 1987 that it was hyperthermophilic and that hyperthermophily was the key innovation involved in the origin of the special archaebacterial lipids. Secondary means only that the ancestral neomuran and its eubacterial ancestors were not hyperthermophilic. Thus in the context of the whole tree of life ancestral archaebacterial hyperthermophily is secondary. I have never favoured Foterre's argument for thermophily as an explanation of the circularity of the chromosome as I have never accepted that archaebacteria are as old as eubacteria, which also mostly have circular chromosomes and are mostly non-thermophiles, which means that circularity evolved prior to the last common ancestor of all prokaryotes, for which there is no reason to assume hyperthermophily or even thermophily. Forterre's idea of the origin of prokaryotes by reductive evolution of eukaryotes is mechanistically totally implausible (nobody has ever suggested plausible intermediate stages or how you could undo the eukaryotic endomembrane system or cytoskeleton, still less how the first cell could have evolved it) and refuted by the fossil record, so his 'explanation' of circular chromosomes was a non-starter.
Your question about Cenarchaeum has a phylogenetic and a taxonomic aspect. Taxonomically I oppose making it a distinct phylum, just as I oppose cren- and euryarchaeotes as distinct phyla, for their phenotypic disparity is too small to justify a rank above subphylum. There have been too many unmerited designations of new phyla among bacteria based just on sequence trees rather than phenotype. Another unmerited phylum ranking is the hyperthermophilic Korarchaeota [392]. It would be more appropriate to make thaumarchaeotes and korarchaeotes new crenarchaeote orders, possibly classes. Ranking is a subtle thing and bacteriologists underuse the intermediate ranks of class and subphylum compared with order and phylum (technically division), yielding unbalanced and less useful classifications.
Phylogenetically there are two contradictory positions for Cenarchaeum: as sister to hyperthermophilic crenarchaeotes as on the 2-gene rRNA tree of Brochier-Armanet et al. [232]and both protein trees of [393]and as sister to all other archaebacteria as in the 53 ribosomal protein tree of [232]. It was unwise to assume as they did that the latter is the correct topology, as Cenarchaeum is represented only by one lineage and its position on the tree could reflect systematic bias, not true history. Indeed the EF2 tree and one based on 35 ribosomal plus 3 RNA polymerase proteins give strong support to Cenarchaeum being sister to hyperthermophilic crenarchaeotes. Furthermore the 16S-23S rRNA tree including Korarachaeum gave unequivocal support to it and Cenarchaeum both being the deepest branching members of the crenarchaeote clade. The latter trees based on a greater diversity of different proteins and including also a korarchaeote (unlike [232]) are more likely to be correct than the ribosomal protein tree of [232]. Interestingly the 38-gene tree places Cenarchaeum and 'Korarchaeum' as sisters with good support and this clade as sister to the traditional thermophilic crenarchaeotes with 100% support. If this is correct then your question would be irrelevant, as the conclusion that the cenancestral archaebacterium was hyperthermophilic would remain, as it would be most parsimonious to suppose that Cenarchaeum, like several euryarchaeote lineages, was secondarily mesophilic (it could also be sensible to group Cenarchaeum and Korarchaeum in one new class). I agree with Brochier-Armanet et al. that the characters shared by Cenarchaeum and euryarchaeotes are likely to be ancestral to archaebacteria and were probably lost by hyperthermophilic crenarchaeotes, but if such characters are indeed ancestral one cannot use their presence in Cenarchaeum as a reason for preferring one topology over the other. If Cenarchaeum is sister to all other archaebacteria, which seems to me unlikely in the light of [393]this would make their ancestral state harder to deduce; Brochier-Armanet et al. candidly admit that one could not confidently decide whether the cenancestor was hyperthermophilic or mesophilic just from the topology [232]; that is because a hyperthermophilic ancestry would involve only one more reversion to mesophily than the several we are confident of in euryarchaeotes; thus it is not so unlikely that we can reasonably reject it purely for parsimony. Even in the unlikely eventuality that Cenarchaeum is truly the deepest branching archaebacterium it would remain more likely that the cenancestor was hyperthermophilic, as that more satisfactorily explains the origin of their lipids and reverse DNA gyrase.
Forterre's explanation of the origin of reverse gyrase as a chimaera of two eubacterial proteins strongly shows that eubacteria are indeed ancestral to archaebacteria and neomura, as all the most compelling evidence congruently indicates. The trees and genome data of [393]confirm that erecting Korarchaeota as a separate phylum based on bad and misleading 16S rRNA trees (an all too common practice for bacteria) was premature and unwise, and together with the genome data for Cenarchaeum make the same point for it; neither is more radically different from other crenarchaeotes than the very diverse euryarchaeotes are from each other; moreover they show that the differences between crenarchaeotes and euryarchaeotes have been exaggerated; many now clearly stem from secondary losses in the cenancestor of the traditional hyperthermophilic crenarchaeotes, just as I argued [12]. It is increasingly clear that archaebacteria were ancestrally hyperthermophilic, evolved from eubacteria, that both subphyla generated secondary mesophiles, and that reductive evolution by multiple gene losses has been far more important in their origin and diversification than is yet widely accepted. But there is absolutely no evidence for the generation of prokaryotes by the loss of eukaryotic organelles. I would rank Thaumarchaeota and Crenarchaeota each as classes, not phyla.
p39: 'Because selfish DNA, especially transposons and endogenous retroviruses, spread much more slowly in sexual than in clonal populations, a sexual protoeukaryote would have suddenly been inundated by such genetic parasites.' There is an error here: presumably this sentence was supposed to read 'spread much more slowly in clonal than in sexual populations'. Here I think it would be an oversight not to cite the seminal paper by Hickey [280]. I am not aware of 'spread' in clonal systems, though there may be 'persistence' of some types of mobile element. Arkhipova & Meselson [394] showed loss of retroelements during the evolution of asexuality in Bdelloid rotifers, which makes sense given these elements propagate through replicative transposition. It seems that DNA transposons persist, and, given that they can transpose by conservative mechanisms, this may well be a case persistence rather than slow spread. It is noteworthy that bacterial transposons are primarily conservative, but can occasionally transpose by replicative means - overall there doesn't seem to be much evidence for proliferation (at least judging by prevalence in prokaryote genomes).
Author's response: It was an inversion error, now corrected. I inserted reference to Hickey [280]and also to my paper that was probably first to argue that non-infectious selfish DNA cannot spread easily in clonal populations [279], and which directly stimulated Hickey to show that it can easily in sexual ones. I originally cited neither because this is old established history, just as one does not cite Darwin every time one mentions evolution or Watson and Crick every time one mentions a DNA double helix. With respect to bdelloids, they contain many more transposons than previously thought [395], indicating that transposons can spread even in clonal asexuals by lateral gene transfer (e.g. by viral infection), for which there is also good evidence in bdelloids [396](or that bdelloids are not strictly asexual). This does not alter the fact that evolving sex added an extra easy way for transposons to spread.
Gáspár Jékely
Max Planck Institute for Developmental Biology, Tübingen, Germany
This paper presents a critical review of various models on the evolution of the nucleus along with a long argument that intracellular coevolution is the key to understanding eukaryote origins, as well as a scenario on endomembrane and nucleus evolution. I find this a very detailed and insightful synthesis. Below I comments on certain parts of the paper, which relate to some cell biological aspects of the author's model. I focus on those parts where the author's scenarios disagree with some of the scenarios I had proposed on the origin of secretory membranes, predation and the nucleus. Hopefully this discussion will help to improve our models and also help to recognise the merits and weaknesses of the somewhat contrasting scenarios.
Comments about the small GTPase tree
You challenge some of my earlier suggestions that were based on the phylogeny of eukaryotic small GTPases [65]. You write, that "It is evident from other work that the Arf branch is the longest among the eukaryote paralogues and that the small GTPase tree is essentially unresolved at its base [83]; therefore rooting of the tree with the far longer eubacterial outgroup could have wrongly attracted it to the base." Ref. 83 does not show that Arf is the longest branch, and in the tree shown in this paper only Ran is unresolved. The small GTPase tree is also resolved at its base in other analyses (see also my Bayesian tree in [ref. [67]]). Besides, I didn't claim that Arf came first, but that the first split separated Sar1/Arf/SR? from the rest. Sar1/Arf/SR? also forms a distinct group in [ref. [87], which paper suggests independent origin for this branch and the Ras/Rab/Rac/Ran branch. Looking back at my paper [65], I realised that you probably misinterpret the numbers at the nodes of the tree in my Fig. 1[65], which solely indicated the nodes, to simplify discussion about them, and not branching orders.
You also write, that "It is as unwise as for other paralogue trees to assume that the rooting is accurate." Rooting with the closest eukaryotic paralogs, the trimeric G-protein alpha subunits, also gives the same position for the root [67].
Further down you write: "The worst argument, however, was that the Arf-1 branch is involved in secretion and the Rab one in phagocytosis, and to combine these two bad arguments to conclude that exocytosis evolved before phagocytosis [65]." I disagree. It can be safely deduced that the Sar1/Arf/SR? branch ancestrally regulated secretory membranes. Sar1 and SR? still exclusively do this, and Arf1 has indispensable functions in Golgi. The ancestral function is not so clear for the other branch. Later you write, that "almost certainly endocytosis and exocytosis coevolved, recruiting from a common pool of enzymes when assembling their toolkit." I agree with this, but I still think that putting whole-cell phagocytosis first is cell biologically unrealistic. There had to be some preadaptation also in the membrane trafficking system to allow complete cell engulfment.
You also write, that "Thus was born the primary divergence between ER outwards secretory traffic and plasma membrane inwards endocytic traffic seen in GTPase [65] and SNARE [89] trees." Funnily, this is the same over-simplification that you just criticised above as my worst argument (in ref [65]).
Author's reply: We both agree that 'endocytosis and exocytosis coevolved, recruiting from a common pool of enzymes when assembling their toolkit' and also that it is not easy to infer whether the Rab branch was originally involved in phagocytosis or exocytosis. That being so, it is not safe to infer what was the ancestral role in the common ancestor of both branches. The difference between us may not be that huge. I agree that there must have been much preadaptation in several respects not least with respect to surface membrane properties. I also agree that on the grand scale of things secretion preceded phagocytosis as it is done by all prokaryotes whereas phagocytosis is derived. However secretion and exocytosis are not the same. My 'oversimplification' and your 'worst argument' are not the same - both for this reason and also because my statement about SNAREs is obviously not the same as yours about Rabs. You argued from the Rab tree that exocytosis preceded phagocytosis. I argued that secretion (which ancestrally did not involve exocytosis) preceded both and that primitive phagocytosis marginally preceded exocytosis, but that well-developed exocytosis and phagocytosis must have coevolved; even my statement about both trees mentioned only primary divergence and did not involve a claim that exocytosis came first. With respect to 'putting whole cell phagocytosis first' my recent discussion of the origin of the endomembrane system argues that predation was the primary driving force for eukaryogenesis but that some novel features of the endomembrane system evolved during an earlier phase of extracellular digestion prior to phagocytosis itself, but that (as argued earlier) cell ingestion was what first generated internal membranes and thus membranes that could for the first time undergo exocytosis [27]. I refer the reader to that paper for details.
Comments about the nature of the first endomembranes
You also disagree with my secretory membranes-first scenario, although the difference between our scenarios may not be so great as it seems from this criticism, and I think that our models will eventually converge. You step back a little in this paper, but in your recent paper [91] you postulated an early phase of membrane evolution, even discussing the possibility of some tubulation before phagotrophy, as I suggested in [65]. In ref [91] you also speculate on the primacy of ER-linked functions, such as surface secretion of membrane-anchored digestive enzymes and ERAD. In my scenario these evolved on the early membrane tubules, somewhat before total cell engulfment and were preadaptations to allow regulated secretion during phagotrophy and possibly membrane splitting/fusion. The prey might not have been exclusively cellular, as you also write [91], it could have been digested nutrients or viruses and these could have been digested/absorbed by a tubular endomembrane network (and I agree that ERAD is a very plausible mechanism [91]). I would argue that the phagocytosis machinery, which is based on actin, Rac and pseudopodia, evolved independently, although always functionally linked (e.g. via digestive enzyme targeting) to the secretory membranes, which is rather based on microtubule motor, tubules and vesicles. Your figures are still not updated to include these tubules, which would emanate from the prey vesicle in your scheme, or directly from the PM, before total engulfment, according to my scheme.
You also write, that "So we should not ask 'did phagocytosis or exocytosis evolve first?': both evolved together, with phagotrophy being the entirely novel selective advantage, as De Duve [90] and Stanier [2] first argued." Actually Stanier in ref [2] wrote 'endocytosis', and De Duve expressed views, which are more similar to the enzyme secreting, food capturing tubules I described in ref [65], rather than to whole-cell engulfment. According to De Duve [90] endomembranes evolved by "infolding of the cell membrane, allowing the formation of internalized extracellular pockets into which captured food and secreted enzymes were trapped together ... If this hypothetical reconstruction is correct, then the decisive event may have been simply the progressive spreading, with concomitant infolding, of a membrane already adapted for secretion and absorption." Assuming that the food was not cellular, it is easier to imagine such (tubular) invaginations, generated by primitive membrane bending coats and molecular motors pulling on membranes [65]. These membranes could have had both secretory and absorptive function. In these membrane invaginations and networks fusion and fission could evolve, all preadaptations for total cell engulfment. Otherwise I cannot imagine what your prekaryote did when it first engulfed a whole bacterium and topologically separated the phagosome from the plasmamembrane. How did it re-fuse the vacuole if no membrane fusion machinery was present? How did the cell do it on a regular basis to earn a living? I would like to emphasize, that my model also posits that eukaryogenesis was driven by the evolution of predation, but I incorporate some intermediate steps before total cell engulfment, that also make the scenario cell biologically more plausible. The selective logic and a possible social scenario for the evolution of predation is described in (Biol Direct. 2007 Jan 19;2:3.).
Author's reply: Our thinking is certainly much more similar than either is to some deeply contrasting views that seem to ignore cell biology, especially in that we both see membrane budding and fusion as the most crucial innovation in eukaryogenesis and give a central role to novel selective forces and mechanisms stimulated by predation. You also rightly guessed that the present paper and figures were prepared long before my recent paper that proposes a predatory and partially extracellular digestion phase prior to ingestive phagocytosis [27]. That modification to my earlier ideas was made because, like you, I think that some degree of preadaptation is essential in explaining complex innovation and because my proposal also neatly explains many aspects of the evolution of the ERAD machinery that was unknown when I first thought about the origin of phagocytosis. I imagined that some refusion of food vacuoles with the plasma membrane could have occurred accidentally because of an inherent tendency of membranes to refuse, but grant that this would probably be inefficient and that an evolution of phagocytosis without a simultaneous improvement to exocytosis could hardly have occurred; I pointed that out long ago [11], and thus have never thought that phagocytosis evolved in detail prior to exocytosis. Thus without a very rapid improvement of refusion by the origin of specific membrane fusion proteins, there would have been a severe bottleneck. This would have given an extremely strong selective advantage to the evolution of exocytosis, stronger I think than in your scenario. The intermediate where I now postulate both were perfected is assumed to have 'made its living' initially by extracellular breakup the cellular prey and import of the proteins, so the transition to engulfing whole cells would make absorption of proteins more efficient and thus not be as radical a change in way of 'earning a living' as your question implies; complete internalization would also allow the better exploitation of energy rich lipids. In a chicken-and-egg problem like this it is more likely that exocytosis and endocytosis evolved together rather than either developed alone. I did not complicate the present figures by introducing tubulation because this paper focuses on the later origin of the nucleus, the necessarily prior origin of endomembranes having been discussed in detail in [27].
I am not against membrane tubulation per se as an intermediate stage; the difference between us is that I invoked it to improve the efficiency of absorption, as did de Duve, whereas you did so to increase the efficiency of secretion at the cell surface, which is less plausible to me. If as you now say such invaginations 'could have had both secretory and absorptive function', we are indeed coming closer; what I objected to was singling out secretion as their primary one. Until at least some membrane budding to internalize membrane had occurred, there would have been no internal membranes that could be externalized by exocytosis or from which exocytotic vesicles could bud and later fuse with the cell surface. Thus exocytosis must have followed some membrane internalization; such internalization would be most simply initiated by a rudimentary form of endocytosis/phagocytosis. If so, the rudiments of phagocytosis at least briefly preceded the rudiments of exocytosis. With respect to history, you misinterpret Stanier's use of 'endocytosis'; at the time he wrote the term included both phagocytosis and pinocytosis (see p. 9 of his paper); it was specifically invented to embrace both; its much more recent use to refer mainly to receptor mediated micropinocytosis in contrast to phagocytosis is a complete distortion of its original meaning. As you probably know, Stanier went on to say (p. 27): 'the capacity for endocytosis would have conferred on its early possessors a new biological means for obtaining nutrients; predation on other cells.' prior to discussing the impact of this on cell structural complexification. There is no doubt that he had in mind mainly phagocytosis rather than pinocytosis as the driving force, just as I did when proposing actin as the key molecular invention enabling phagocytosis and eukaryogenesis [10].
Comment about the constriction of the NPC cylinder
About the early evolution of the NPC you write, that "Later this wide cylinder, allowing nucleocytoplasmic exchange by passive diffusion (Fig. 5a), was constricted to exclude ribosomes from the nucleus" A simple constriction of the proto-NPC cannot exclude ribosomes and other factors from the nucleus. For exclusion FG-repeats are needed. A constriction will only result in more limited diffusion, but not (size) selectivity. Ribosomes cannot be excluded this way, because they are assembled in the nucleus. What such a diffusion barrier could achieve is increased RanGTP levels in the nucleus and a sharper RanGTP gradient (as shown in ref [139]). Everything then follows from this, as nuclear transport evolves. An increase in localized RanGTP was probably the primary reason for constricting the proto-NE and NPCs.
Author's reply: there is a misunderstanding here; the Figure citation relating to 'constriction' is 5b, which does have the FG repeats. I thought it was clear that in 5a where there are no FG repeats the ribosomes had free passage but in 5b when they are added they do not. To prevent others misinterpreting my meaning I changed 'constricted' to 'constricted by inserting the inner FG repeat ring'. I do not really understand the statement about ribosomes not being excluded because they are assembled in the nucleus; precursor ribosomal subunits are indeed thus assembled, but complete ribosomes with messenger are larger and generally only assembled in the cytoplasm and thus generally are excluded.
You also write, that "possibly their first cargo was inner-membrane DNA-binding proteins [18], that would otherwise be impeded by the novel integral membrane Nups, unless from the start NPCs opened to let them cross the NPC NE domain" It is not clear that NPCs have to open to allow the crossing of transmembrane cargo. There are clear gaps between the NE and the NPC that may allow the passage of transmembrane proteins (Cell 1992 69:1133-41, Nature 2007 449:611-5, Science, 2008 322:1369-73).
Author's reply: an interesting comment. However there is evidence that some integral membrane proteins are imported by karyopherins [397]. I suspect that my and your proposals about which were the first things to be transported may both be oversimplified guesswork, and that we may never be able to reconstruct with confidence the order in detail.
Comment about the selective forces during the evolution of the nucleus
I am unconvinced by the kinetic argument for phase 2 of the evolution of the nucleus (the first steps in the evolution of selective transport). In ribosome assembly the rate-limiting step is rRNA transcription and maturation, and is not limited by the diffusion of ribosomal proteins, which is very fast. So even if the cell can concentrate its ribosomal proteins by active nuclear transport, it will not make more ribosomes. The anuclear cell can simply make the amount of ribosomal proteins needed, which will quickly diffuse to the site of ribosome assembly as the rRNA is made. Similarly, during nucleosome assembly the rate limiting step is replication, and concentrating histones doesn't help. So no cost is spared, but it is costly to drive transport by RanGTP. So evolving nuclear transport in order to concentrate ribosomal proteins and histones around DNA is not a good explanation. In my model [ref [139]] the evolution of nuclear transport is not simply about absolute, but relative concentrations (host ribosomal proteins relative to mitochondrial ones).
Author's reply: As explained previously [4, 5]but not reiterated here, compartmentation advantages centrally involve the lower cost of maintaining a high concentration of key molecule if they are excluded from the bulk of the cell. By largely excluding free histone, other nuclear proteins and ribosomal proteins from the cytoplasm, roughly 10-fold less of each protein is needed per cell cycle to maintain a given nuclear concentration than if they were evenly spread through the cell. That is a large economy. Thus it is not just a question of rate limitation as you assume. If replication were the rate-limiting step for nucleosome assembly why would there be so many different nucleosome assembly chaperones?
Comments on the criticism of the ribosome chimerism model
You also criticize my model on the origin of the nucleus [139]. You write, that "First, there is no evidence that the mitochondrion evolved before the nuclear envelope" This I also acknowledge in the paper. However, you also note, that "We now see that the origins of mitochondria, nuclei, and cilia were virtually simultaneous. As each was a complex series of processes it is most likely that they overlapped in time, so disputing which was first may be meaningless." So, simply, we don't know the order. My theory is based on the assumption that the mitochondrium came slightly earlier, than the nucleus, but clearly after phagotrophy evolved. You also write, that "Secondly, it is not very logical to suppose that the transfer of genes could be tolerated with impunity for a period and then became a compelling force for evolving the envelope." In my theory the nucleus evolve to correct the bad effects of mutation pressure. It is the same logic as the one you apply to explain the origin of NMD: "Thus like splicing itself, and many genomic oddities like RNA editing [105], nonsense-mediated decay is a consequence of selfish DNA evolution; correcting the bad effects of mutation pressure, not positively adaptive." I say the same about the gene transfer ratchet of mitochondrial ribosomal proteins (slightly deleterious mutations fixed by drift), and when the harm is done, the problem is fixed by compensatory advantageous mutations as the nucleus evolves. Since there are 24 individual transfers, the harm is done in small steps, and compensation can also evolve in small steps.
You also write, that "If transfer were so strongly disadvantageous, it would be more likely either that cells with transferred genes would lose out in competition" It was probably not more strongly disadvantageous, than the shearing forces you postulate. This was collateral damage, caused by the evolution of other cellular features, which were either selected for or spread by drift, and then had to be fixed. Further on you write, that "Thirdly, just as for the intron harm theory criticised above, the early stages in nuclear envelope assembly could not have helped solve the problem" This is not a valid criticism either. Figure 2 and 3 in the paper [139] clearly show how the first stages could have reduced the problem. Actually, I can even give an explanation for the origin of the RanGTP gradient around chromatin, which can create a compositionally distinct region of the cytoplasm, which is not explained by invoking only shearing forces, as you do. Later you write: "Fourthly, in the final stages of evolution of nuclear import - increased selectivity - the benefit would have been the net benefit of excluding hundreds of different proteins from the nucleus and the positive import of hundreds of others." I agree, and I also mention [139] that in the final stages many transport processes and cargos had to coevolve.
Author's reply: I am not against the principle of phenotypic correction of unavoidable mutation pressure being important in cell evolution, having invoked it several times myself, e.g. in the origin of spliceosomal introns, RNA editing, chloroplast DNA minicircles, and even with respect to ribosomal evolution as a consequence of the chimaera problem [3, 211, 398, 399]. The difference between us is primarily over the likely selective disadvantages and advantages of the steps discussed. I apologize for not having properly appreciated your simulation studies, which I agree refute my original third objection to your ideas. I have therefore deleted it, making the fourth objection the third. I have also revised this objection to cast it in the form of strong support for your general thinking of how a degree of compartmentation could have been achieved prior to complete pores combined with scepticism over the special importance of avoiding chimaerism. We are both agreed in the central importance of compartmentation and coevolution for the origin of the nucleus, but I think it likely that there were many simultaneous benefits of compartmentation.
Minor comments:
The conservation of EJC-dependent NMD in plants has also been demonstrated experimentally (EMBO J 2008 27:1585-95).
The structural similarity of COPII and NPC has recently been demonstrated (Science, 2008 322:1369-73).
Author's reply: references added.
The section "Origins of nuclear protein modification by sumoylation" does not really fit into the Discussion. Sumoylation is not mentioned in the main text. It would be better to include it into the Results section.
Author's reply: moved.
Eugene Koonin
'Intracellular coevolution and the origin of the cell nucleus and sex'
This is a very far-reaching, extensive discussion of a paramount problem in evolutionary biology, at least, with regard to the evolution of eukaryotes, the origin of the nucleus and sex.
The article is quite long but is overall an excellent read. Furthermore, I am very sympathetic with the succinct conclusion of the abstract on the importance of studying coevolution of different eukaryotic organelles for understanding eukaryogenesis. Yes, I think such a systemic approach is indeed key.
I am afraid, however, that this is where I have to stop with my comments. The text of the article, interesting as it undoubtedly is, does not appear to be an objective discussion of the problem, but rather a one-sided narrative that I am not inclined to analyze and criticize in detail. The show stopper to me is that the "painted picture" is based on several major assumptions that are accepted here as unquestionable but that I find either highly controversial or outright implausible. The highly controversial assumptions are the archaezoan nature of the proto-eukaryotes that was the host of the mitochondrial endosymbiont, that is, the assertion that this organism was a bona fide phagotroph that possessed the principal eukaryotic features such as the endomembrane system, the cytoskeleton, and the nucleus itself; and the bikont-unikont phylogeny of eukaryotes.
Author's response: The core subject of this paper is not the origin of mitochondria, treated in detail elsewhere [20], but new proposals on the physical mechanism and selective forces causing the origin of the nucleus. These are entirely independent of whether or not the eukaryote tree is rooted between unikonts and bikonts, as the original version of this paper assumed, or not. Indeed, new evidence suggests that that rooting was mistaken [9, 55]and that the root is instead within Eozoa, specifically between excavates and Euglenozoa (or possibly even within Euglenozoa) as explained elsewhere [9]. But this does not in any way affect the mechanistic and selective arguments proposed here, which are independent of the precise rooting. As I stated, no reasonable alternative alters the conclusion 'that the last common ancestor of all eukaryotes was a phagotrophic protozoan with nucleus, at least one centriole and cilium, facultatively aerobic mitochondria, sex (meiosis and syngamy) and dormant cyst with cell wall of chitin and/or cellulose, and peroxisomes'.
The referee inaccurately states that I asserted that the host for the origin of the mitochondrion was a fully developed eukaryote with a nucleus. I did not. I said it was either such a well-developed eukaryote or else a somewhat earlier 'intermediate stage' that already had evolved 'rudiments of phagocytosis and endomembranes'. My arguments as to the mechanistic cause of the origin of the nucleus depend (as do most scenarios for its origin) on the prior evolution of the endomembrane system, but are independent of whether mitochondria were acquired after the origin of the nucleus (as in the disproved archezoan hypothesis [400]), before the origin of the nucleus (as Martin and Koonin postulated [21]) or temporally overlapping with the origin of the nucleus. My positive arguments for the selective forces that favoured the origin of the nucleus in successive stages are also independent of the relative timing of nuclear and mitochondrial origins. My negative arguments against the prior acquisition of mitochondria and of introns derived from them as being a plausible selective force for the initiation of the origin of the nucleus are also independent of the historical fact of whether the mitochondrion came before, after, or during the origin of the nucleus. Thus even were it true that the mitochondrion came first, I would not consider it plausible that the origin of spliceosomal introns was the primary selective cause of the origin of the nucleus. It is also misleading to refer to my present views as favouring an archezoan host, as for over a decade I have rejected my earlier hypothesis that there are extant primitively mitochondrial eukaryotes (Archezoa) as all putative Archezoa turned out to be secondary anaerobes with relict degenerate mitochondria.
To refer to the idea that the host for mitochondrial enslavement was a bona fide phagotroph as 'highly controversial' is misleading and tendentious. Unless you place the root within non-phagotrophic Plantae (which the single symbiogenetic origin of chloroplasts forbids) or Fungi (which much evidence contradicts), we can safely conclude that the last common ancestor of eukaryotes was a bona fide aerobic and sexual protozoan phagotroph with all standard eukaryotic organelles. That its earlier ancestor which engulfed the ancestor of mitochondria was also a phagotroph obviously cannot be stated with equal confidence. Nonetheless, as no free-living bacteria (=prokaryotes) have ever been shown to internalize a foreign cell and maintain it as a symbiont, the alternative assumption [21]that the host that thus internally enslaved an proteobacterium was a prokaryote is mechanistically implausible and much less justifiable than to suppose that the host was a phagotrophic prekaryote or protoeukaryote that regularly engulfed prey cells. Phagocytosis provides the easiest and most widespread mechanism whereby symbiotic cells enter host cells. Intracellular symbiosis is so widespread in eukaryotes mainly (not entirely) because of the existence of phagocytosis; billions of cells daily are thus taken up by free-living eukaryotes. Conversely there are no examples of free-living prokaryotes able to engulf other cells or harbour intracellular symbionts (the only known example of intracellular symbiosis within a prokaryote is a parasite of eukaryotes); thus there is no evidence that a free-living prokaryote did so even once during 3.5 billion years. It is therefore immensely more likely that mitochondria entered eukaryotes after the origin of at least a rudimentary phagocytosis. Furthermore there is no phylogenetic evidence that mitochondria were taken up before the origin of the nucleus. To assume that they were is phylogenetically gratuitous and to assume that the host was a non-phagotrophic bacterium is mechanistically extremely implausible. Therefore it is not scientifically sound to invoke the formal possibility that mitochondria came before phagocytosis in evolutionary explanations; unless new evidence or compelling arguments to the contrary are adduced, it is more parsimonious and more likely that phagocytosis preceded mitochondrial acquisition.
Evolutionary explanations should distinguish between mere formal possibilities and genuinely likely events based on known properties of organisms. A remote formal possibility is not a valid explanation of an historical fact if a simpler one based on known phenomena exists. Therefore it is the alternative invocation of an unknown, unprecedented mechanism for engulfment by a free-living prokaryotic host (e.g. by [21]) that is unwarranted and 'highly controversial', not the idea that at least a rudimentary version of phagocytosis had probably evolved prior to the origin of mitochondria, which is mechanistically much sounder and phylogenetically entirely acceptable.
Because there are no phagotrophic prokaryotes it is unlikely that phagotrophy would have long preceded the origin of the nucleus (if such organisms existed for millions of years there is no reason why they should all now be extinct as the niches would still be available), and because there appear to be no primitively amitochondrial eukaryotes (if such organisms existed for millions of years there is no reason why they should all now be extinct as the niches would still be available), it is equally unlikely that the acquisition of mitochondria long preceded that of the origin of nuclei. Therefore for some years, in contrast to my earlier, now disproved, archezoan hypothesis [60, 400, 401], I have considered that the origins of phagocytosis, mitochondria, and nuclei were most likely essentially contemporaneous [3, 27]and that we are unlikely ever to be able to order the two latter with certainty in time. All these events may have occupied well under a million years [27].
An implausible one, as far as I can judge, is the "neomuran" origin or archaea (archaebacteria, under the terminology used here). All these assumptions are accepted as statements of fact, largely, on the force of previous publications, without much elaboration. My understanding, however, is that the arguments in those publications were seriously flawed, so I cannot accept the assumptions.
Author's response: I wish you had said what you think the flaws are so that we could see if your objections have any weight. As you agree with me that archaebacteria are holophyletic sisters to eukaryotes [24], I do not see how you can logically object to my deducing that characters shared by both groups were present in their common ancestor, whereas characters unique to each probably arose only in their individual last common ancestors. The latter means that with respect to lipids the ancestor of neomura had acyl esters and was thus eubacterial not archaebacterial in nature. From your previous writings, I assume that you do not like the idea that eubacteria are older than both eukaryotes and archaebacteria, but you ought to consider both the palaeontological and transition analysis arguments for the greater antiquity of eubacteria and if you disagree for definite reasons should attempt to refute them. I refer readers to the latest discussion by Valas and Bourne [41]on the position of the root of the tree of life, which concludes that available evidence most strongly supports my conclusion, and that the post-1977 mindset of so many microbiologists of assuming the antiquity of archaebacteria without proper evaluation of the evidence is probably mistaken.
I did not present this view dogmatically but did so only briefly 'relying on previous arguments'. As the arguments in my previous papers on this topic all remain valid and have not been refuted, and as the logic of my explanation for the rooting of the tree (both mechanisms and selective forces) is valid independently of the rooting of the overall tree of life, about which I had few novel arguments, I simply cited those in my earlier papers. As the referee criticises my doing that and as the root position is important for another aspect of the origin of the nucleus (the phylogenetic origin of each key protein), I have now introduced two even more compelling new arguments from lipid evolution for the posibacterial ancestry of neomura and summarise the overall logic below (readers familiar with this can skip the next two paragraphs):
First is the phylogenetic argument that archaebacteria are holophyletic sisters to eukaryotes, not their paraphyletic ancestors. I originally based that argument on (1) the view that the unique lipids of archaebacteria are a shared derived character of archaebacteria alone and that the acyl ester lipids of eukaryotes are an ancestral eubacterial character vertically inherited by the host from an ultimately eubacterial ancestor, plus (2) the palaeontological fact that eubacteria are much older than eukaryotes but no unambiguous fossil evidence exists that archaebacteria are any older than eukaryotes, together with (3) the view that there is no mechanistically plausible way that the far simpler prokaryotic cells could be secondarily derived from eukaryotes, which was congruent with the fossil evidence that prokaryotes, specifically eubacteria, are older [4]. This original argument was made somewhat less decisive by the demonstration that all extant archezoa are secondarily derived from aerobic mitochondriate ancestors, as this meant that the origin of the nucleus and mitochondrion must have roughly coincided, raising the formal possibility that the eukaryotic acyl ester lipids were derived by lipid replacement from the mitochondrial rather than the host ancestor [31]. Elsewhere I explained why that formal possibility is mechanistically and selectively extremely implausible [3]. At that time I introduced a new argument that three gene splits found in archaebacteria alone, which are unlikely to have been reversed in the last common ancestor of eukaryotes, are additional evidence for the holophyly of archaebacteria [12]. Two new arguments introduced here are that Martin's idea of host lipid replacement by the mitochondrion [31]cannot explain the origin of phosphatidylinositol or sterols; phosphatidylinositol was crucial for eukaryogenesis [27]but is totally absent from both archaebacteria and proteobacteria but is universally present in actinobacteria, the likely ancestors of neomura; and the enzymes for making sterols are very widespread in actinobacteria and were not acquired by LGT from eukaryotes. Thus neomura must either have evolved from actinobacteria or be their sisters as suggested here. The latest trees from the referee's own group based on 355 genes argue much more strongly for the holophyly of archaebacteria than did any previous trees [24]. Thus, despite conflicting/ambiguous but unconvincing evidence from some gene trees [46], evidence for archaebacterial holophyly is stronger than ever.
If archaebacteria are indeed holophyletic, one cannot justifiably infer that the last common ancestor of archaebacteria and eukaryotes had any of the characters that are unique to archaebacteria or any that are unique to eukaryotes. Instead it is most parsimonious to suppose that this common ancestor had all the properties shared by archaebacteria and eukaryotes, plus all those shared by archaebacteria and eubacteria alone (i.e. prokaryotic genome and cell structure), plus all those shared by eukaryotes and the phylogenetically older eubacteria (i.e. acyl ester lipids, and dozens of genes ancestrally absent in archaebacteria such as Hsp70). In other words this last common ancestor of eukaryotes and archaebacteria (collectively neomura) was a not an archaebacterium, because on the most parsimonious assumptions it had acyl ester lipids like a eubacterium and prokaryotic cell structure. It resembled a posibacterial eubacterium because it had a single membrane not a double bounding envelope as do all other eubacteria (negibacteria). But it would be equally incorrect to call it a eubacterium as it would have had N-linked glycoproteins on its surface and presumably had already lost the peptidoglycan wall. Thus the last common ancestor of neomura was prokaryotic, but neither an archaebacterium nor a posibacterial eubacterium, but a missing link with some properties of each that was most probably derived from a posibacterium prior to the origin of either eukaryotic or archaebacteria-specific characters. That is why it is misleading to use modern names of extant groups to label such inferred intermediates; better call it an ancestral neomuran. The ancestor of the neomuran clade prior to the replacement of the peptidoglycan by glycoprotein and the origin of histones was a eubacterium, specifically a stem actinobacterium that still retained some key endobacterial properties that persist in neomura.
As the referee does not give any reasons why these arguments for a posibacterial/neomuran origin of archaebacteria are 'implausible' or 'deeply flawed' or cite any from the literature (I am aware of none that have been clearly laid out) I cannot do more to defend them than I did in previous publications. The referee does not mention any better explanation of the ancestry of Archaebacteria than that given previously [4, 12]. The widespread assumption that they came from a mythical 'progenote' devoid of specific properties [37], which he presumably shares, is no more informative or better based than the idea of special creation.
One important discovery from the referee's research [402]illuminates the nature of the cenancestral neomuran further. They have shown that crenarchaeote and korarchaeote archaebacteria possess actin-like proteins that are more similar to actin and actin-related proteins (Arp 2 and 3) than are eubacterial MreB and ParM proteins. This implies that certain key changes that differentiate actin from MreB (and related eubacterial proteins ParM and MamK) occurred in the neomuran ancestor prior to the divergence of eukaryotes and archaebacteria. It is reasonable to suppose that these were associated with the loss of the peptidoglycan wall and the development instead of an improved internal cell skeleton for osmotic protection and mechanical stability. This finding does not alter the fact that the gene duplications that generated actin and the related Arp2/3 which nucleate its polymerization and mediate branching took place after the pre-eukaryotic lineage diverged from archaebacteria. This is consistent with the argument that this major step in actin evolution was associated with the origin of phagocytosis [6, 27]. Thus archaebacteria lack this key feature of the actin skeleton; a three dimensionally cross-linked actin gel remains unique to eukaryotes. It was misleading to write of the archaeal ancestry of actins [402]as the tree for their actin-related proteins provides no evidence that crenarchaeotes are ancestral to eukaryotes; instead they appear as their sisters. Thus the novel features shared by actin/Arp2/3 and crenarchaeote actin-related protein (notably large related insertions near the C-terminal) are most parsimoniously interpreted as having evolved in the ancestral neomuran. Their absence in euryarchaeotes can be attributed to secondary loss. Very likely during the neomuran burst of gene duplication of MreB/actin-related proteins a number of paralogues was generated; one would have been ancestral to actin/Arp2/3 and crenarchaeote actin and a more conservative one to the methanogenic euryarchaeote MreB. Additional paralogue loss within crenarchaeotes can explain the findings of Yutin et al. [207]more simply than lateral transfers and protein replacements that they invoke between crenarchaeotes and korarchaeotes.
Their assumption of lateral gene transfer of MreB from eubacteria to methanogenic archaebacteria is also entirely unnecessary if one accepts the rooting of the tree of life within eubacteria [4, 6, 12, 13, 40, 47, 48, 50, 381]; vertical transmission from posibacteria to archaebacteria alone would suffice. Their assumption of lateral transfer to Thermoplasma is a bit more plausible because such transfer may be inherently more likely for a plasmid encoded paralogue like ParM than for MreB, but is also probably unnecessary. It is not obvious that its placement on the tree within the ParM/StpA clade is correct; I suspect it is a long branch artefact (LBA): a strong divergence in Thermoplasma actin-like protein caused by the loss of the eukaryote cell wall and ensuing selection for a better internal skeleton would have made it so divergent from its ancestral type (whether MreB or the crenarchaeote/actin paralogue) that it might not group correctly with them. It is evident from the tree that ParM evolves much faster than MreB. The alignment indicates that Thermoplasma protein is very idiosyncratic compared with all others in respect of both indels and sequence - just the sort of protein likely to be misplaced on trees; I do not think one can reliably distinguish between 3-5 possibilities: (1) that it is really sister to the crenarchaeote protein, but misplaced on the tree by LBA, (2) that it is really a ParM protein (descended either vertically from the neomuran ancestor or by LGT from another eubacterium) or (4) that it is an independent derivative of an MreB ancestor (descended either vertically or by LGT, but if the latter not necessarily from a eubacterium). Nonetheless the first possibility seems simplest.
Portrayal of the last common ancestor of eukaryotes by the referee's group [402]as a cell with a branched actin skeleton and mitochondrion but no nucleus or cilium was wrong. No matter where one roots the eukaryotic tree the last common eukaryotic ancestor had both nucleus and mitochondrion. Provided that one places the root somewhere between the five supergroups shown it is inescapable that it also had a cilium; that figure confused the last common ancestor that we can rigorously infer cladistically with a purely hypothetical intermediate between prokaryotes and eukaryotes. As Jékely pointed out, the implication that Rhizaria may lack phagocytosis is entirely erroneous; the group has two phyla: Retaria (Foraminifera and Radiozoa, in which every single one of the over 10,000 species feeds by phagocytosis) and Cercozoa in which all but a handful of the thousands of free-living species feed by phagocytosis. As referees Gribaldo and Jékely correctly argued, the conclusion that phagocytosis was absent from the cenancestral eukaryote and evolved several times independently in different eukaryotic supergroups is entirely unjustified. The authors conceded that the actin branching and control machinery was present in the last common ancestor of eukaryotes and thus accept that molecules of this core machinery like Arp2/3 which have not been detected in diplomonads must either have been lost or evolved dramatically in sequence beyond bioinformatic detection in a diplomonad ancestor. It is perfectly reasonable to argue that the same is true of other near universal eukaryotic proteins, e.g. Jékely also pointed out that the assumption that Ras was derived from mitochondria was not justified. Thus Yutin et al. [402]provided no new convincing evidence for their assumption that mitochondria arose before the nucleus, nor any reason for their calling the hypothetical primitively phagotrophic intermediate an archaebacterium rather than an intermediate pre-eukaryotic derivative of the ancestral neomuran. The first referee of the present paper shares my scepticism of their basic thesis, calling it 'specious at best'.
Once again, this is interesting reading that reveals remarkable erudition of the author, a lot of interesting literature is cited, and the reader will benefit from a variety of exposition to an important and exciting research field, and possibly, from some of the ideas proposed in the manuscript. However, for reasons outlined above, I find that this manuscript does not call for serious discussion, so I offer none such.
Author's response: A pity you did not give any reasons for your disagreement. It is important that those many who do not accept the phylogenetically older character of eubacteria compared with both eukaryotes and archaebacteria seriously consider (and not just ignore) the now quite compelling and varied evidence for this, which rests on a combination of palaeontological and phylogenetic evidence, both critically interpreted [6, 12, 13, 41]. To establish an historical fact like the position of the root, we need arguments and evidence, not unjustified assumptions. Your assertion when reviewing another paper on the position of the root of the universal tree [41]that the sheer magnitude of the differences between archaebacteria and eubacteria is sufficient to place the root between neomura and eubacteria and to 'close' the debate on the position of the root and that you do not need to go into 'the minute details' of the evidence was phylogenetically unsound and not a good scientific attitude. Thank you, however, for being open-minded enough to recommend publication despite your disagreement. Please try to open your mind still further to the arguments and evidence [4, 6, 12, 13, 23, 41, 403]that refute this idea stemming from the extremely weak speculations of Woese and Fox [404]. Alternatively, please explicitly explain any errors in the reasoning concerning the roughly 20 polarizations from eubacteria to neomura [12]and 13 additional ones within eubacteria [6, 13]; i.e. over 30 independent arguments that are mutually consistent evidence for the root being in Eobacteria. No similarly coherent integration of palaeontology and cell and molecular evolution has ever been presented in support of their now pervasive but almost certainly erroneous assumption (it is nothing more) that archaebacteria are as ancient as eubacteria.
Declarations
Acknowledgements
I thank NERC for grant and fellowship support.
Authors' Affiliations
(1)
Department of Zoology, University of Oxford, Oxford, UK