Rooting the tree of life by transition analyses
Received: 05 July 2006
Accepted: 11 July 2006
Published: 11 July 2006
Abstract
Background
Despite great advances in clarifying the family tree of life, it is still not agreed where its root is or what properties the most ancient cells possessed – the most difficult problems in phylogeny. Protein paralogue trees can theoretically place the root, but are contradictory because of tree-reconstruction artefacts or poor resolution; ribosome-related and DNA-handling enzymes suggested one between neomura (eukaryotes plus archaebacteria) and eubacteria, whereas metabolic enzymes often place it within eubacteria but in contradictory places. Palaeontology shows that eubacteria are much more ancient than eukaryotes, and, together with phylogenetic evidence that archaebacteria are sisters not ancestral to eukaryotes, implies that the root is not within the neomura. Transition analysis, involving comparative/developmental and selective arguments, can polarize major transitions and thereby systematically exclude the root from major clades possessing derived characters and thus locate it; previously the 20 shared neomuran characters were thus argued to be derived, but whether the root was within eubacteria or between them and archaebacteria remained controversial.
Results
I analyze 13 major transitions within eubacteria, showing how they can all be congruently polarized. I infer the first fully resolved prokaryote tree, with a basal stem comprising the new infrakingdom Glidobacteria (Chlorobacteria, Hadobacteria, Cyanobacteria), which is entirely non-flagellate and probably ancestrally had gliding motility, and two derived branches (Gracilicutes and Unibacteria/Eurybacteria) that diverged immediately following the origin of flagella. Proteasome evolution shows that the universal root is outside a clade comprising neomura and Actinomycetales (proteates), and thus lies within other eubacteria, contrary to a widespread assumption that it is between eubacteria and neomura. Cell wall and flagellar evolution independently locate the root outside Posibacteria (Actinobacteria and Endobacteria), and thus among negibacteria with two membranes. Posibacteria are derived from Eurybacteria and ancestral to neomura. RNA polymerase and other insertions strongly favour the monophyly of Gracilicutes (Proteobacteria, Planctobacteria, Sphingobacteria, Spirochaetes). Evolution of the negibacterial outer membrane places the root within Eobacteria (Hadobacteria and Chlorobacteria, both primitively without lipopolysaccharide): as all phyla possessing the outer membrane β-barrel protein Omp85 are highly probably derived, the root lies between them and Chlorobacteria, the only negibacteria without Omp85, or possibly within Chlorobacteria.
Conclusion
Chlorobacteria are probably the oldest and Archaebacteria the youngest bacteria, with Posibacteria of intermediate age, requiring radical reassessment of dominant views of bacterial evolution. The last ancestor of all life was a eubacterium with acyl-ester membrane lipids, large genome, murein peptidoglycan walls, and fully developed eubacterial molecular biology and cell division. It was a non-flagellate negibacterium with two membranes, probably a photosynthetic green non-sulphur bacterium with relatively primitive secretory machinery, not a heterotrophic posibacterium with one membrane.
Reviewers
This article was reviewed by John Logsdon, Purificación López-García and Eric Bapteste (nominated by Simonetta Gribaldo).
Keywords
Outer Membrane
Lateral Gene Transfer
Lateral Transfer
Oxygenic Photosynthesis
rRNA Tree
Open peer review
Reviewed by John Logsdon, Purificación Lopez-García and Eric Bapteste (nominated by Simonetta Gribaldo). For the full reviews, please go to the Reviewers' comments section.
Background
Correctly placing the root of the evolutionary tree of all life would enable us to deduce rigorously the major characteristics of the last common ancestor of life. It is probably the most difficult problem of all in phylogenetics, but not yet solved – contrary to widespread assumptions [1, 2]. It is also most important to solve correctly because the result colours all interpretations of evolutionary history, influencing ideas of which features are primitive or derived and which branches are deeper and more ancient than others [1]. The wrong answer misleads profoundly in numerous ways. Establishing the root of a small part of the tree is more straightforward, yet often surprisingly difficult for organisms without plentiful fossils [3, 4]. Usually the root of a subtree is located by comparisons with known outgroups. However, outgroups for the entire tree are air, rocks and water, not other organisms, vastly increasing the problem, which uniquely involves the origin of life – not just transitions between known types of organism. Here I explain how this seemingly intractable problem can be solved by supplementing standard molecular phylogenetic methods with the very same conceptual methods that were originally used to establish 'known outgroups' in well-defined parts of the tree, long before sequencing was invented. I then apply these methods comprehensively to establish far more closely than ever before where the root of the tree of life actually is.
I show here that, in conjunction with palaeontology and sequence trees, the methods of transition analysis and congruence testing demonstrate that archaebacteria are the youngest bacterial phylum and that the root lies within eubacteria, specifically among negibacteria of the superphylum Eobacteria, probably between Chlorobacteria and all other living organisms (Table
1
summarizes the prokaryotic nomenclature used here, which is slightly revised from previously [
1
], primarily by excluding Eurybacteria from Posibacteria). Chlorobacteria comprise photosynthetic 'non-sulphur' green bacteria like
Chloroflexus
and
Heliothrix
, some little-studied heterotrophs (e.g.
Thermomicrobium
,
Dehalococcoides
) and some apparently deeper-branching lineages known only from environmental DNA sequences and thus of unknown properties [
1
]. I use cladistic and transition analysis to provide the first rooted and fully resolved tree for all ten phyla of bacteria recognized here.
Table 1
The nomenclature and classification used here for prokaryotes (=Bacteria)
Example genus

NEGIBACTERIA (subkingdom)

Glidobacteria

   Eobacteria

Chlorobacteria*

Chloroflexi; green non-sulphur

Chloroflexus

Hadobacteria

Deinococcus/Thermus group

Thermus

Cyanobacteria

Nostoc

Gracilicutes

Spirochaetae

Spirochaetes

Treponema

Sphingobacteria

   Chlorobea

Chlorobi

Chlorobium

   Flavobacteria

CFB group + Fibrobacteres

Cytophaga

   Exoflagellata

Proteobacteria

   Rhodobacteria

α-, β-, γ-proteobacteria

Escherichia

   Thiobacteria

δ-, ε-proteobacteria + Aquificales

Helicobacter

   Geobacteria

Deferribacteres + Acidobacteria +

Geovibrio

Planctobacteria

Planctomycetes + Chlamydiales +

Pirellula

Eurybacteria

Selenobacteria

Sporomusa

Fusobacteria

Fusobacterium

Togobacteria

Thermotogales

Thermotoga

UNIBACTERIA (subkingdom)

Posibacteria

Endobacteria

low-GC Gram positives (incl. Mollicutes)

Bacillus

Actinobacteria

high-GC Gram positives (e.g. Actinomycetales)

Streptomyces

Archaebacteria

Euryarchaeota

euryarchaeotes (e.g. methanogens)

Halobacterium

Crenarchaeota

crenarchaeotes

Sulfolobus
I also provide new perspectives on the evolution of bacterial flagella and the cell envelope and conclude that the last common ancestor (cenancestor) of all life was a highly developed non-flagellate Gram-negative eubacterium with murein cell walls, acyl ester phospholipids, and probably non-oxygenic photosynthesis and gliding motility. It was more primitive than other eubacteria in probably lacking lipopolysaccharide, hopanoids, cytochrome b, catalase, the HslV ring protease homologue of proteasomes, spores, the machinery based on outer membrane (OM) protein Omp85 used by more advanced negibacteria to insert outer membrane proteins, type I, type II, and type III secretion mechanisms, and TonB-energized OM import systems. I briefly discuss implications of this novel rooting of the universal tree for understanding primordial cell biology and the history of life and its impact on global climate.
Methods
The main methods used were transition analysis and congruence testing as outlined above. BLAST and examination of resulting alignments and domain identifications by CDD was frequently used to check homology among potentially related sequences and to extend the literature information about the distribution of key characters across phyla. All BLAST results mentioned were by simple P-BLAST, except for those for Omp85, which additionally used PSI-BLAST in an unsuccessful attempt to detect more divergent homologues in Chlorobacteria. In many cases I used several phylogenetically divergent queries and also reciprocal BLASTs of hits that were rather low; in some cases reciprocal BLAST was dramatically better at picking up strong relationships. BLAST hits with E values above 10 were considered to lack detectable homology.
Results and discussion
To orient the reader in the following complex discussion, Fig.
3
indicates the 12 major transitions that will be discussed; five lesser transitions within Gracilicutes are also considered, making 17 in all (13 within eubacteria). I shall start with the evidence that actinobacteria are sisters of or ancestral to neomura, then work systematically down the tree to the root, discussing each transition in turn, and finally discuss overall implications of this new rooting. As Fig.
3
indicates, a major new line of evidence for polarizing the upper part of the tree concerns stepwise increases in complexity of the HslV and proteasomal proteases, both of which are absent from Chlorobacteria. Before explaining the logic, I provide a little background information about controlled proteolysis within hollow cylindrical macromolecular assemblies, which is essential for all life. I have attempted to present the following discussion in sufficient detail for specialists to check and criticize the validity of all the major points, but have shorn away as much detail as possible to expose the fundamental evolutionary points and to attempt to make the argument reasonably accessible to a broad audience. It is an analysis and synthesis, not a comprehensive review.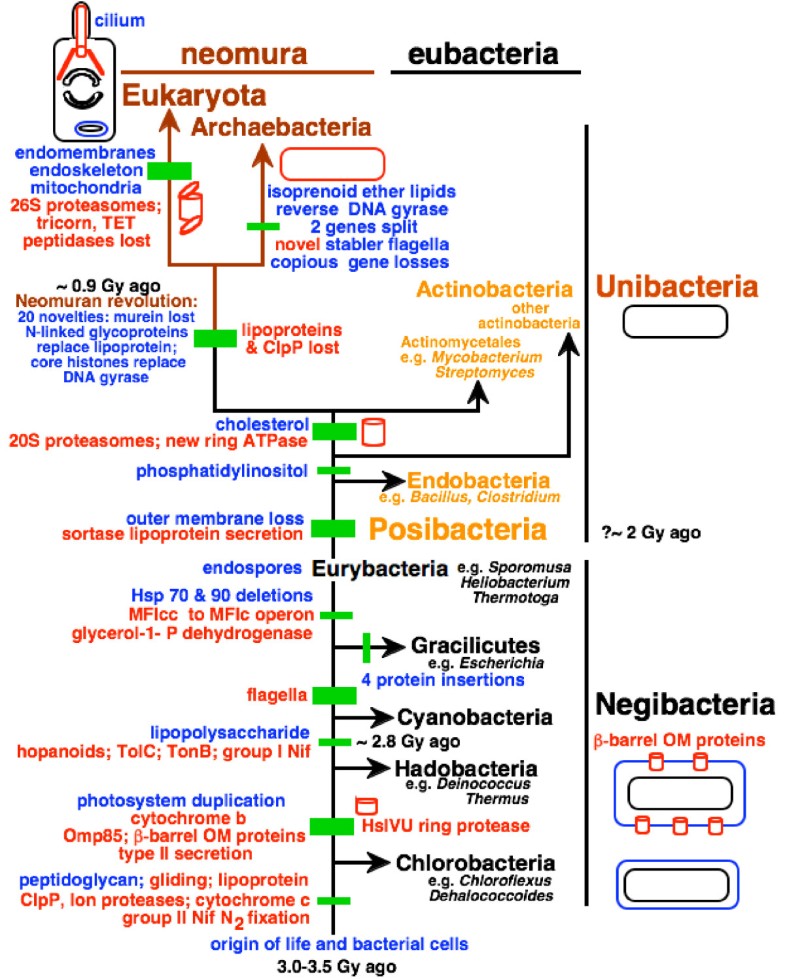 Declarations
Acknowledgements
I thank NERC for research grants and NERC and The Canadian Institute for Advanced Research Evolutionary Biology Program for Fellowship support. I thank J. Archibald, M. P. Bos, S. Gribaldo, T. Lithgow and the referees for comments on the manuscript.
Authors' Affiliations
(1)
Department of Zoology, University of Oxford, Oxford, UK
Copyright
© Cavalier-Smith; licensee BioMed Central Ltd. 2006
This article is published under license to BioMed Central Ltd. This is an Open Access article distributed under the terms of the Creative Commons Attribution License (http://creativecommons.org/licenses/by/2.0), which permits unrestricted use, distribution, and reproduction in any medium, provided the original work is properly cited.